She is only four.
But don't let her youth fool you: she knows exactly what she wants.
And it happens to be my husband.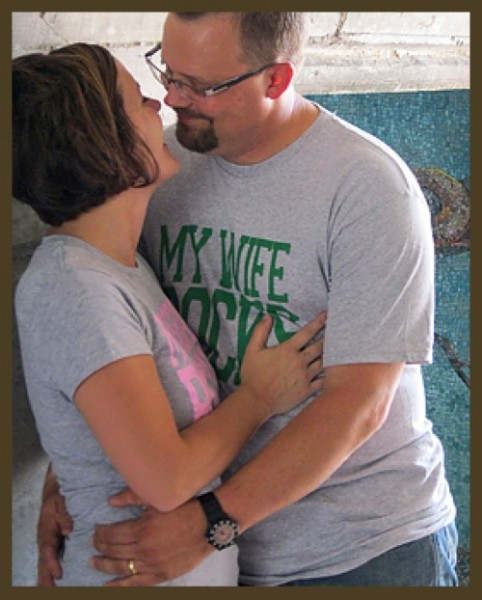 In her precocious manner my little girl stated: "I've decided to marry Daddy."
"You will have to share."
The random statement caught me off guard, but didn't surprise me. She's a Daddy's Girl and strong-willed: a force to be reckoned with most days. But she was completely serious. She started talking about a wedding and instead of calling him Daddy, she started calling him Husband, referring to herself as Wife.
It was hysterical.
My husband was smitten and beaming. I was the Other Woman.
I watched her closely and what I saw moved me. My little girl was role playing me. Other than sounding a bit too bossy (I get it naturally), she was mimicking the way I love my man.
He was wooing his little girl and teaching her what to wait for in a husband.
Our kids our watching our marriages. They are learning from us, whether or not we realize we're teaching them.
What I want my kids to learn from us:
Sometimes married people argue, just like sometimes siblings argue: My kids get this because arguing is how they work things out. It's *how* you argue that matters. No name-calling, putting down, meanness allowed.
Sometimes married people want to be alone: time away for a date night or a weekend, isn't just to get away from kids, it's to strengthen our marriage. I want my kids to want us to get away because we come back more united.
Sometimes married people kiss and hug: I don't ever want my kids to wonder if we like each other. I want them to catch us stealing kisses and greeting each other with deep embraces. I catch them from the corner of my eye and I see confidence on their faces.
Sometimes married people need a time out: when we reach a place where we can't agree together or the tension or outside pressure is great, sometimes we just need to step away, cool off and get a better perspective. But we will always come back to each other.
Your kids are watching your marriage, too. Show them what you want, even if you haven't attained it.