UPDATED WITH WINNER: Comment #245 Ashley
I've been listening to Christmas music.
I know. It's too early. We just hit 60 degrees down here in South Texas and I saw a leaf turn orange. One.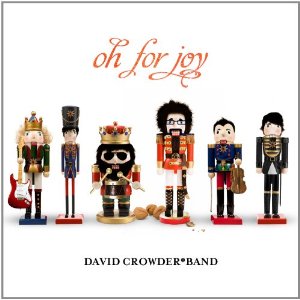 But I love the David Crowder Band's Christmas Album, Oh for Joy, because it's a happy mix of worship, caffeine and celebrating Jesus. It's not too Christmasy, ya know?
This is their last tour and they will be missed. I love their gospel-centered songs and I love that they made the familiar Christmas songs their own. Plus, have y'all seen David's hair (see above nutcracker)?
My favorite is O Come, O Come Emmanuel. My little girl digs Go Tell It On the Mountain (although she prefers her version which includes a stick horse and made up words).
Today, I'm happy to offer ONE WINNER, the entire David Crowder Band CD Collection! It includes:
Oh for Joy
Church Music
Remedy (Club Tour Edition)
A Collision
B Collision
Sunsets & Sushi
Can You Hear Us?
This giveaway ends Thursday.