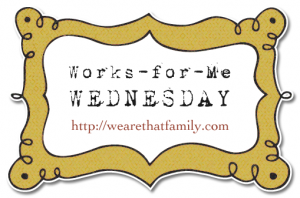 Well. I've gone and done it.
I've did something I said I would NEVER DO. Don't you just love it when you have to eat your words.
(They taste like chicken).
I have said for years that I would never ever get my kids a cell phone before they were driving.
I just think it's crazy how young kids are with phones and nice phones at that.
But then I got a sixth grader  and within 12 hours of being in "middle school" it dawned on me that my daughter was going to be in situations where she needed me. And more importantly, where I needed to connect with her (band practices, lessons, etc).
But since we still feel like she's too young for her own phone and don't want all the headaches that come with that much freedom, we opted for a family cell phone.
Our family cell phones stays at home and is only used when we drop off our daughter for an extracurricular school or church event. Or if she is a mother's helper across the street, or I run and get a sweet tea and leave her in charge for 7.5 minutes, etc.
We were able to just add a line to our existing contract for $10 a month, so it was a cheap solution.
It gives her a small amount of freedom she craves and keeps me from worrying.
It works for us!