I love to make things.
I grew up in an enterprenure's home, with a dad who can still come up with ten new business ideas on a napkin at dinner and with a mom who folk art painted on Thursday nights, made stain glass on Saturdays and created porcelain dolls in between.
You could say I inherited some of this (except I can't come up with ONE business that will get my hubby next to me during day time hours and I'm a horrible painter).
Except for that.
But I love to create.
For a long time, my creativity could be found in my DIY projects and home decor. But after returning from Africa, I struggled with continuing to make it about me and not sharing some of it. Does that make sense?
I think that's why I can't believe I get to be a part of Mercy House, specifically helping to empower our girls by selling their artistic creations. It all makes sense, this creative outlet helping them help themselves. Plus, I really enjoy this part of it!
Creativity has come full circle for me. Mine has found a purpose and I'm finding my rhythm to allow my creativity free reign back in my home again…
Ephesians 2:10 For we are God's workmanship created in Christ Jesus to do good works, which God prepared in advance for us to do.
Why we need to be creative:
We serve a creative God. Just look around you. (He also may or may not have a sense of humor)
God created us to be creative.
We possess a unique, original gift of creativity. We can produce something that no one else can.
We honor Him when we produce something creative.
He receives glory in our creations.
Challenge: My hubby and I are dream-storming about the future (you know, instead of brainstorming). It takes  a lot of creative juices to think outside the box. Besides just mental creativity, I'm trying to scratch the itch that demands hands-on creativity.
So, with only items in my home and 10 minutes to spare, I made this: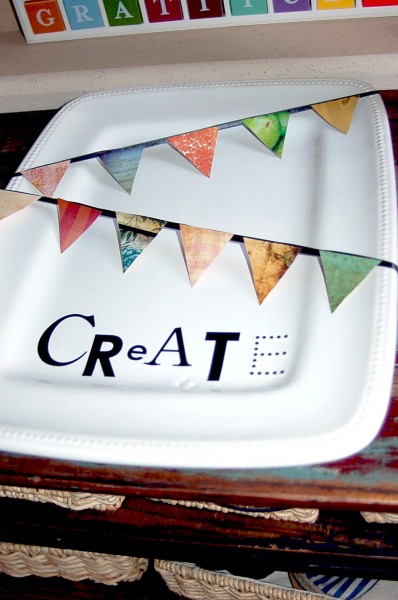 -white platter on my shelf made a great canvas -leftover ribbon and stickers from an old project -flag pieces cut from a sentimental Compassion International flyer -put them together to make a happy sign
What can you come up with?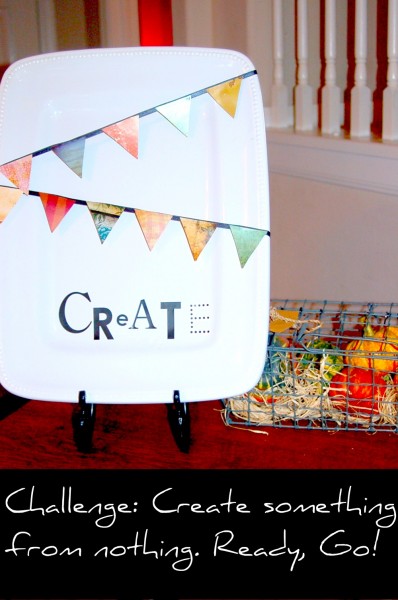 And don't even tell me in that whiny voice, "I'm not creative." You know who you are.
YOU WERE CREATED TO BE CREATIVE. It doesn't have to be crafty to be creative. Go make a unique dinner, organize the garage exceptionally, write something heartfelt.
Glorify Him thru your creativity.
Why are you still here?
Go!