I have a tiny laundry room.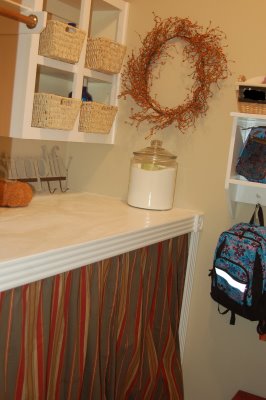 But it's cute, that should count for something, right?
Although if you stop by, it won't look like that. [hint: piles]
My big kids are in charge of their own laundry (which is a fancy way of me saying, once a week, I ask them to bring down their basket, put it in the washer, oversee their soap-usage, remind them how to start the washer, tell them when it's time to move to the dryer, add in the dryer sheet they forgot and tell them to now fold and hang up. It's a work-in-progess).
I'm always trying to look for ways to tidy up the laundry room (since I'm only caught up about 45 seconds a week-FREEZE, everything is clean. Ok, moment over).
I love this idea:
What's your best laundry tip for the New Year?
edited repost