I  discovered the meaning of troubleshooting the other day.
For hours, I had been knee-deep in printer cords and computer cables, battling a broken modem and a customer service rep, all while trying to print 500 labels with an offline printer.
I was in trouble and I wanted to shoot something.
I'll be honest: I don't handle moments like these well. I get frustrated, irritable and whiny.
That's about the time my  husband walked thru the door. He took one look at the mess (me, not the technology) and went to work.
In less the thirty minutes, he had our Internet back up and everything working perfectly. When he handed me the neat pile of printed labels, I hugged him deeply.
I'm not gonna lie: I was very attracted to him.
He came in from work exhausted from a long day. But he served me because he loves me. It was the single most sexiest moment of the week.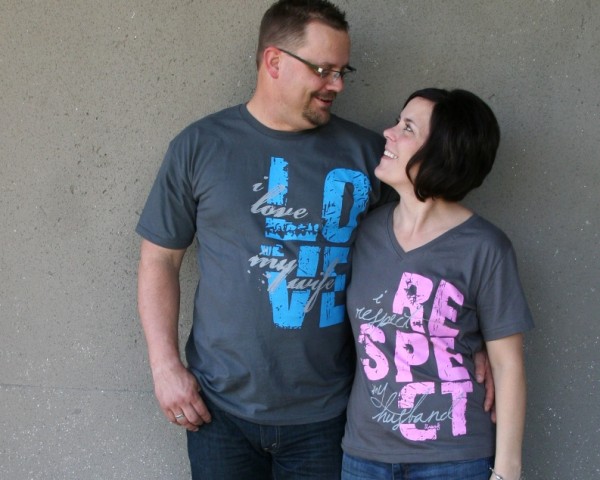 And I simply returned the favor by telling him so. Respecting our hubbies enough to tell them when they bless us is only gonna make him want to love you more.
Today, in honor of Love & Respect, one winner will receive a Union28 Valentine's package that includes:
Women's "I Respect My Husband" Tee (Fitted or Non-fitted Short Sleeve or Fitted Long Sleeve) pictured above
Men's "I Love My Wife" Tee (V-neck or Crew Neck)
4-pack of "You Rock" Love Notes (blank inside)
Union28 would also like to give a Valentine's gift to Mercy House: Union28 will give 10% of the sales from all orders received from the WeAreThatFamily community between Thursday, FEB 2 & Saturday, FEB 8th – simply mention "Mercy House" in the comments area during checkout.
To be entered, tell me how you show your spouse love and/or respect.
Get 15% off your order today with this coupon code: U28TFK15
P.S. what's your favorite shirt??
UPDATED with WINNER – Congratulations to Shaunta (comment 77)