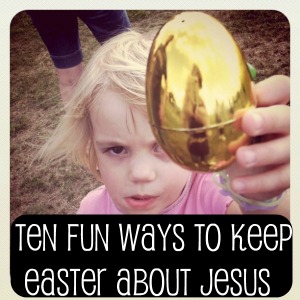 Easter is about Jesus.
eas·ter/ˈēstər/ meaning "the most important and oldest festival of the Christian Church, celebrating the resurrection of Christ."
It is a day to celebrate the Resurrection of our Lord.
I'm not against fun or chocolate covered eggs, I just like meaningful things to remain, well, meaningful. I want my family to celebrate Him. Sure, we can add in the fun, but I don't want the fun to be all there is.
Call me a radical zealot.
Thank you.
Here are ten ways to keep Easter About Jesus and have fun:
Read The Parable of the Lily and plant (or force) a lily bulb
Create this easy, beautiful watercolor Cross Art
Dye/hunt eggs. Share the reasons behind the traditions
Make Resurrection Eggs. Read Benjamin's Box: The Story of the Resurrection Eggs
along with it.
Bake Hot Cross Buns on Good Friday
Fill Easter baskets with something meaningful (a new Bible, a cross necklace, eggs with Scripture)
Make Resurrection Rolls for Easter morning breakfast
Share your Easter meal with someone who might spend it alone or take a basket to a child in a hospital
Have a family devotion together and talk about the meaning of Easter (this is a good one)

I think Easter is fun when it's celebrated for all the right reasons!

What would you add?

Amazon affiliate links in this post