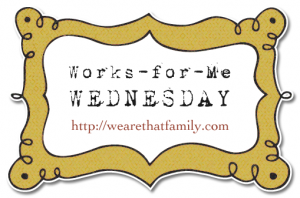 In honor of all the eggs that will give up their yolks in the next month, I thought I'd repost my popular eggshell tip!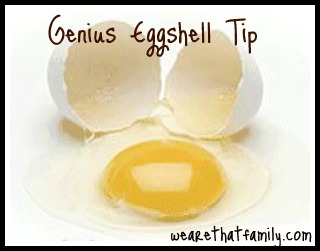 I'm not exactly known 'round these parts for being a baker extraordinaire.
Shocking, I know.
I do have a reputation with a certain neighbor for loving cookies and hiding some of her treats from my kids, but that doesn't exactly count.
I come from fine cooking stock. My mom is a mean cake-baker. And my mother-in-law lives in the country without Internet or a WalMart and fills her day cooking, gardening and baking. So, you could say she's an expert.
On our last visit, I was fumbling my way around her kitchen (I usually just set the table and help clean up), and my daughter begged to crack the eggs. She did great on the first two, but before I could brag, the third egg was not as fortunate. We both looked into the batter and gulped at all the tiny white eggshell pieces.
I started telling a story (which I do in moments like these, a gene passed along from my father) about how I spent 25 minutes once fishing for one tiny bit of shell.
My mother-in-law took a piece from my daughter's hand and gently placed it in the batter, near the loose eggshell pieces and they were magically drawn to the piece in her hand. "I'm not sure why, but the small pieces are drawn, almost magnetically to the large piece," she explained as she picked up every piece in about 20 seconds flat.
I totally knew that little trick.
I just forgot.
(I also dashed to my purse and WROTE THAT LITTLE FACT DOWN. For you, of course).
This egg tip works for me!
edited repost from the archives