She wanted her way.
I said no.
Sound familiar? It's a regular occurrence in our house.
"You are the meanest mom!"
What? Your image of our family is shattered? Yeah, mine too.
I used to cringe when my kids said this.
Now, I just nod my head and remind myself that I must be doing something right. And most of you are too. But the world won't always see it that way.
It's in our children's nature (as it is in ours) to be selfish. We want what we want and why didn't we get it five minutes ago? I'm not picking on my kids. They are human, completely normal. So much like me.
But our culture is all about self-gratification. It's made comfort and ease and excess the goal.
I try to say yes when I can, but let's be honest, some answers need to be no.
This probably won't shock you, but this isn't popular in our world. We live in a culture that thinks they put kids first by telling them yes. It's common, normal, applauded to be yes parents. And we are creating a generation of children who always get what they want. They have their own ipads at 3, cell phones at 7, are over-scheduled at 8, wear $150 shoes at 9 and have more freedom than they can handle at 11 and are "dating" at 12.
Parents in our society have bought into the myth that if they give their kids everything they want, they will be happy. Plus, it's just a lot easier than saying no. No takes courage. It takes strength (especially if God's blessed you with strong-willed children). Ahem.
The world will never see me as good parent. 
My husband and I are trying to raise our kids counter-cultural.
I say trying because we don't have this figured out and we are learning how not to do things. But we walk against the flow, on purpose. We refuse to do what our culture demands and we say no a lot to cultural norms.We try hard to be consistent, offering grace and understanding along the way.
And we screw up every day.
Before you feel sorry for my kids, we also provide them with love and affection, meet every physical need and many, many of their wants. We splurge occasionally (which I think is absolutely necessary) and we invite our kids to talk to us about anything, as long as they can do it respectfully.
I know there are many families that do the same thing and I hope we can encourage each other. But society as a whole, will not understand your choices.
Choosing to live counter-cultural isn't easy.  The world will never see you as a good parent. You will be misunderstood, even pitied. And your children might (probably will) resist in some areas. Living a counter-cultural life means you won't fit in. It means your kids won't be like everyone else. Most days my kids are okay with this, but honestly, some days it's hard for all of us. We continually ask our kids to trust us as we try to follow God, but we know there are some things they will never understand or like.
Which gets me back to being the meanest mom ever.
And honestly, I'm okay with that.
I know I'm not alone in this, so be encouraged all you mean moms!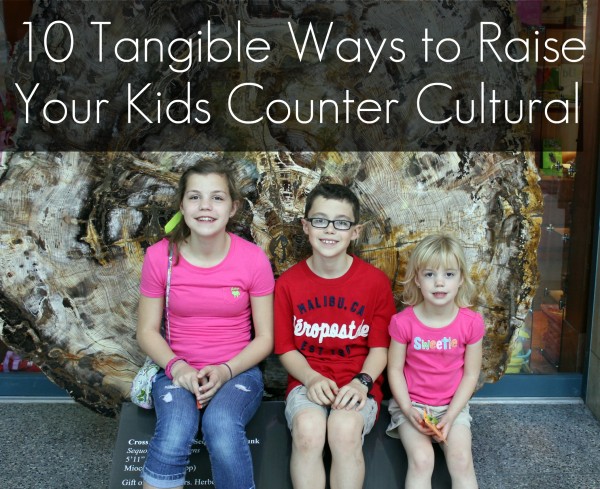 one :: limit screen time (set a time limit each day, or only allow it on the weekends, have a "no technology day" –whatever works for you).

two :: resist overspending– your kids are watching, don't pass down bad spending habits and contribute to what the bulk of our society is doing. And if you do overspend, attack your debt.

three :: don't be afraid to say no– even if society and every other parent on the block is doing it, don't jump on the bandwagon unless it's right for your family. Be intentional with your choices.

four :: give your kids jobs– create a sense of hard work, pride and ownership by encouraging them to work for what they want. Don't just buy them everything.

five :: determine what your kids really need-there's a lot of pressure as parents to give our kids the best of everything. Give your kids what God says they need. Love them unconditionally, offer grace like it's offered to you. Laugh every day and be grateful.

six :: live by example-the Bible clearly states that we are to look different from the world we live in. If we are buying into the American Dream (bigger is better), are we setting an example for our kids? Kids often replicate parents. Give them something good to follow.

seven :: encourage alternatives– don't just say no. Challenge your kids to creatively express themselves. Example:  I loved seeing this recently: instead of spending $100 on a homecoming football mum, a group of kids gave the money to charity and wore a t-shirt that said so.

eight :: expect more from your kids than culture demands– society says kids need stuff and all teens are lazy.  Let's prove them wrong and challenge our children to be hard workers.

nine :: let them own mistakes– don't fix everything. Teach your children responsibility by letting them fail sometimes. Be consistent.

ten :: splurge– surprise your kids every once in awhile by breaking one of the above rules.