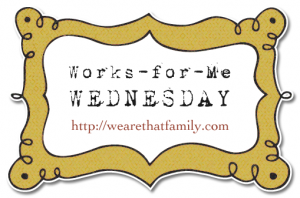 One of our favorite family activities is watching a movie together. We turned off cable a few years ago and just have Netflix. I think since we try and limit screen time, it makes the time together more special. But honestly? It's not that easy to find family friendly flick these days.
We also have a wide age span with a preschooler and nearly a teen, so finding something appropriate for the whole family can be challenging.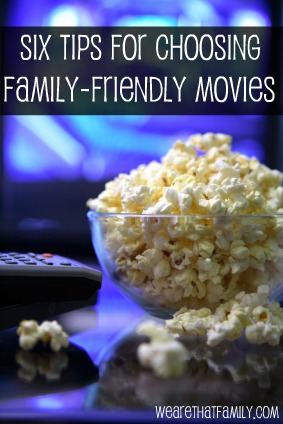 1. Check in with sites like Plugged-In Online– This is such a fantastic website, created by Focus on the Family. It not only reviews movies and TV shows, it also reviews games. I find it especially helpful for checking out movies. It breaks down movies by:  Positive Elements, Spiritual Content, Sexual Content, Violet Content, Crude or Profane Language, Drug and Alcohol Content and Other Negative Content. It wraps up each review with a helpful Conclusion. Two thumbs up for this site, plus there's a handy smartphone app. Movie Mom (Belief Net) is also an option for a quick glimpse into a movie or DVD. It love the "grades" it gives movies.

2. Ask someone you trust– Odds are someone you know has seen a movie you're considering. You can always preview it yourself. I'm always a little hesitant to recommend movies unless it's something I'm really confidant about sharing.

3. 90 Family Movie Night Suggestions– Plugged In Online also offers suggested Movie Night films based on age breakdown (a list of 20 recommended movies for teens and kids). Simple Mom also has a list of 11 great family movies. Here's a list of 50 good, clean older movies. Many older movies I saw as a kid would be rated PG-13 today, so beware. But I also think classics (My Fair Lady), musicals (Sound of Music) and old Disney movies (Apple Dumpling Gang) are fun to watch with your family

4. Make it a Teachable Moment– There have been a few movies our older kids have begged to watch, that we weren't sure about. We have a strict No PG-13 policy, but we bent the rules to watch Courageous together and we've done it a few other times. Instead of always saying no, sometimes we surprise our kids and then look for the teachable moment.

"Aside from the simple pleasure of spending time together and discussing films over a big bowl of hot-buttered popcorn, there are teachable moments in Hollywood's modern parables and character studies. Crafted properly, movies can lift the spirit, tap into eternal truth and convey moral messages that challenge us to live out what we've experienced. We have a brief window for watching age-appropriate movies together before our children have to make those decisions for themselves. Here's your chance to influence the process. The key is to use movies with which you feel comfortable in a controlled setting." Focus on the Family

5. Use the Remote Control Libererally-I've lost count of how many movies we've turned off. It's always disappointing, so doing research is a great idea. We usually end up watching America's Funniest Videos and laugh our heads off. Clearplay is also a great option for filtering movies.

6. Follow Your Instinct– If you've done your research and still don't have a peace, go with your gut. Just because everyone is watching it, doesn't mean you (or your family ) should.
How do you choose a movie for your family?
Final countdown to the first ever Works For Me Wednesday compilation e-book called, That Works For Me! Tried and True Tips from WFMW. Coming NEXT WEEK!