It's the last day of school for my kiddos.
About this time every year, I look longingly at pending summer and I am giddy.
I can't wait to unplug the alarm clocks and sleep-in, eat powdered sugar donuts from the bag, live in our swimsuits, let my kids sleep in the fort made from bedsheets and make 27 varieties of popsicles.
Once those things are checked off our list, it's generally Summer: Day 2.
Before the end of July, I can't get my kids out of bed, they won't stay out of the pantry, they are chaffed from all the swimsuit-wearing, my "good sheets" are filthy and the floors are sticky from all the sugary frozen ice and I'm on a countdown for school to start.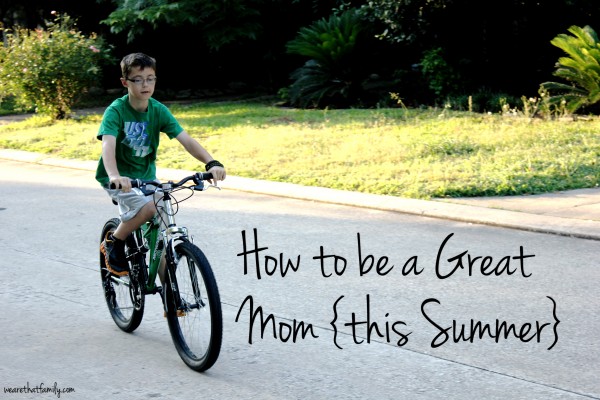 Don't get me wrong, I love love love summer with my kids. We create memories that last forever and want it to be summer all year long (at least that first week), but I learned a long time ago, that reality is well, reality. And there can be too much of a good thing.
I know I'm a great mom and I don't need a summer to tell me that. But I want to live this summer without regrets and I plan to do so by following these simple thoughts:
Say yes as often as possible– Yes, you can paint your toenails everyday a different color. Please do it here _____because it's easier to clean up. Yes, you can hook up the hose the trampoline and create your own water park while tossing grapes in your mouth. Yes, you can have ice cream for lunch.
Refuse to over-schedule– but get into a routine that works for your family. The beauty of summer as a child is the freedom to be carefree with days to do whatever. But at the same time, at our house we need a routine of good choices. For example, our default is the public swimming pool, library and $1 movie days or a crafty project. On a week we do nothing, we might do all 3 or none of these, but they are options when we start picking on each other. I like to give my kids time to do nothing!
Be impulsive and creative-some of the best memories are from our spontaneity. I'm not so good at this (insert Type A), but if I listen to my kids, their impulsive ideas are often good ones, even when it means there's a mess. Messy moments are often the best.
Don't be a tour guide– Kids don't have to constantly entertained. We usually install a reading hour every day during the summer and last year for every hour they read, they earned screen time. It's not timed or forced, but we stock up on really great summer reads to help make this happen. It's during these down, unplanned times that kids have the freedom to be creative and entertain themselves.
Monitor screen time– in our technology-filled world, this is absolutely necessary. We are pretty strict about it during the school year, but more lax in the summer. But the last thing I want them doing is filling their hours in front of a screen, so I will be conscious of how much my kids are idle. I also won't be tweeting or Facebooking much and blogging less. My screen time needs to be limited too.
Summer bucket list– Summer flies by and the time needs to be intentional. I like for my kids to pick one thing they really want to do-sometimes it's berry picking or making homemade ice cream. My 5 year old really *wants* to break her arm, so she can get a cast. We're going to try and skip that one. Choose one thing each and count is successful if you get it accomplished!
Set aside time for yourself– I work from home and while I plan to cut back this summer (closing Mercy Shop for June and July and not taking on new writing projects), there are still things I need to do for Mercy House and words I want to write so I stay sane. I try to work an hour or two before my kids wake up and I usually have a babysitter one day a week. This summer, I'm paying my oldest to help me. She's Red Cross certified and we're both excited about it. I also arranged with my hubby to have one night a week out of the house to get work done.
I think just being present is the greatest gift we can give our children. There's a lot of opportunities for this during the summer and I plan to take advantage.
Y'all remind me of that when I chafed, m'kay?