The room was dark and we lay facing each other, toe to toe, so close I could feel his breath on my cheek. It was late and we were both tired from an exhausting week, but we needed this.
In the hush of pillow talk, he told me about a conversation with our son. I heard the uncertainty in his words, the way his sentences ended with a question mark. I listened to the voice of a father who loves deeply, but feels inadequate when he can't protect his children from hurt.
I whispered back reassuring words and reminded him he was enough. And then I gave voice to my concern over our daughters, my own self-doubt and mom guilt. I forced down a sob, when I said the words, "this parenting thing is so hard."
I felt like I couldn't breathe.
And so we did the only thing we could think of-the only thing that really works, we prayed for our children together and fell asleep with their names on our lips, tangled arms and legs, in this together.
We have great kids-there's no subliminal message here, but they are human and they push for freedom we aren't ready to give, they say things that hurt, they are wounded by friends and face discouragement and failure. So, basically, we're all a big human mess.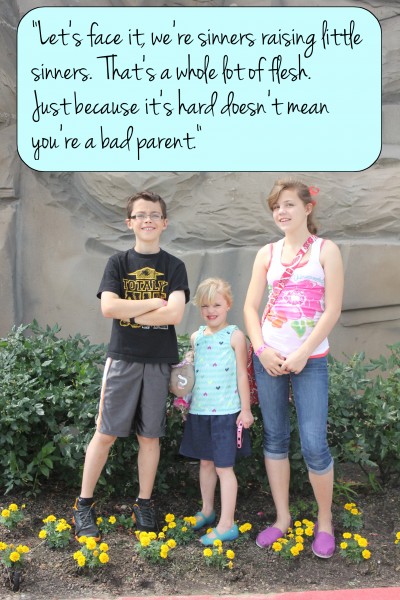 And we're navigating this journey together, sometimes it's loud and riveted with pain and it's always messy.
During a particularly challenging day in which my entire clan was angry at me, I felt like God dropped this truth in my heart and now I've got a death grip on it:
Hard parenting doesn't mean bad parenting. If often reflects good parenting.
Let's face it, we're sinners raising little sinners. That's a whole lot of flesh. Just because it's hard doesn't mean you're a bad parent.  And sometimes when it gets hard, it's because they are fighting against us and ultimately God. And sometimes it's just plain hard because it's normal.
Hey you-yes you, that child who refuses to sleep and the one that sucks the very breath out of the room with her drama, that's normal.
Fight on, weary soldier.
And have some sweet tea.
I was talking to a good friend the other day who has her first foster child (added to her three biological). She was talking of the uncertainty of it all and the mountain of unknowns, the fear and doubt. She said her husband reminded her that this new foster baby was just like their kids–all their children belong to God. They are all His and we are only promised this moment with them.
Simple. Profound.
I tucked that truth right next to the other:
My kids belong to God. He uses their trials to work in them just like He uses mine. 
And sometimes He uses this family thing to grow us all.