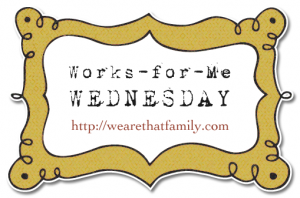 This week, That Works For Me! Ebook is being featured at Bloom Book Club. We are giving away 5 copies and as an entry, we've encouraged  commenters to share a tip. I have loved (and learned) so much!
Some of my favorites:
Kitchen: Place a dryer sheet in the bottom of the kitchen trash can to help eliminate odors
Organization: Use a different color hanger for every person in your house
Kids: Never leave home without wet wipes
Pest control: little piles of cornmeal get rid of ants
Cleaning: Never leave a room empty handed. When moving around your house, always look for something that needs put away in the room you are going into.
Cooking: save bits of leftover veggies and add them to a container in the freezer till the container is full, then make a pot of vegetable soup by adding some tomato juice or broth
General: When in doubt, order pizza!
Enter to win a copy here. Or buy one today with $2 off coupon code: SUMMERSALE