There has never been a time like we live in now.
In my daughter's public junior high, they don't use textbooks, students can access the information online and they communicate homework and reminders thru texts. Small children maneuver (and own) Apple products instead of toys. Pinterest has changed the lives of women (who don't like what their husband is watching on TV) everywhere. It's becoming rare not to see someone attached to a phone or a device of some kind.
In this technology age, there are more distractions bombarding us then ever before.
I'm not against these advances and enjoy many of them, but the risk of wasting our time and our life on what doesn't matter grows with every distraction.
We live distracted lives and we allow it because it's become the norm. And it's not like it's sinful, right?
"Sin isn't only doing bad things. It's turning good things, into ultimate things." -Jason Johnson
The risk is turning something good into our main focus, which in the end is bad.
And when our focus becomes stuff or devices that help us organize, acquire, manipulate, our stuff, we make them our idol. Idolatry is spending your life on what doesn't matter.
God shows us mercy by allowing things to disappoint us, it's there in the letdown where we discover the power our stuff has over us.
Focusing on things that don't matter will always lead to disappointment. Whether it's obsessively decorating our house (I've been there) or shopping and shopping and shopping for more, more, more (been there too), in the end, when the buzz is gone, we still want more and the temptation to "redecorate" or "restyle" magnifies.
"Remember you have one life. That's all. You were made for God. Don't waste it." -John Piper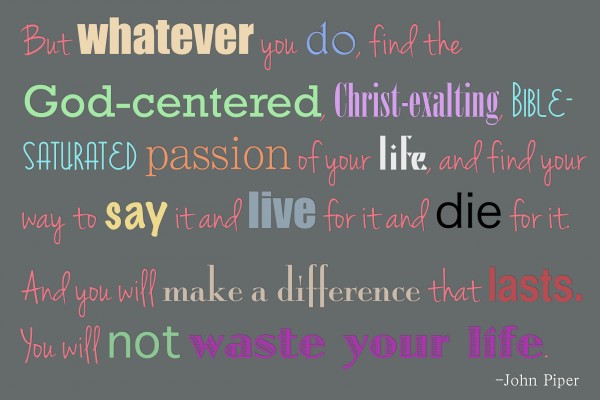 We were made for another world and this one will never truly satisfy. It only brings temporary satisfaction and we hunger for something more sustainable.
It's when we find the passion of our lives, the passion that exalts Jesus, that's where we are satisfied.
Free 8×10 Printable: Do Not Waste Your Life
———————
Together for Adoption in Atlanta next weekend!

I'll be there. Will you?