Y'all know my deep and abiding love for sweet tea.
And if you doubt me, oh if you dare doubt, I'll hyperlink to this.
Bam.
So, you can imagine my excitement when Chick Fil A emailed me about Free Breakfast Thursdays in the Houston area.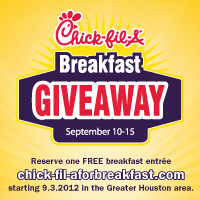 Insert loud MOOOO here.
The nearest Chick Fil A from our old house was about 5 minutes. Now, it's 96 seconds. I kid you not. It's God's will, I tell you.
So, here's the deal: Reserve your choice below, print, and eat.
Reservation link:www.chick-fil-aforbreakfast.com
Reservation system open: September 3 –14 (closes at 6 pm on 14th or whenever reservations have been filled – limited quantities available)
Reservations available: September 10-15, 2012 / 6:30 am – 10:30 am at participating greater Houston area Chick-fil-A locations
Featured breakfast products (10): CFA Chicken Biscuit, Spicy Chicken Biscuit, Sausage Biscuit, Chick-n-Minis (3-count), Chicken, Egg & Cheese Bagel, Bacon, Egg & Cheese Biscuit, Chicken Breakfast Burrito, Sausage Breakfast Burrito, New Oatmeal and Yogurt Parfait
Steps required: Sign up for a date/time/entrée on website, print coupon and bring with you the appropriate day and time, receive the item for free.
It's that simple!
Free food always works for me! Side note: did you know you can Google "kids eat free," your town, and the day of the week and find restaurants that serve free food? Try it!
Disclaimer: This is a sponsored post. But my love of the Christian chicken is true and real. Amen.