This is important.
I just returned from my annual exam. Yes, that annual exam. Only, it's been two years, so bi-annual is more accurate. I have rescheduled and canceled the appointment for exactly one year (insert excuse here) and now I have to add regular mammograms to the list. This is what getting old looks like. You've been warned.
My doctor wanted to prescribe something for my insomnia and anxiety. I told her about Mercy House. She said cream and a pill couldn't fix that. So I guess I'll have to stick with margaritas. Oh, I kid.
I left the doctor's office yesterday and it was raining. I stuck my "to do list" back in my purse and didn't open my laptop the rest of the day. Instead I got a pedicure: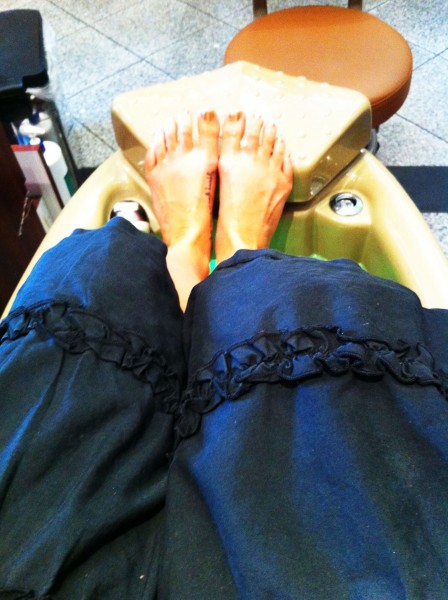 I couldn't remember the last carefree afternoon I'd had and while I enjoyed every glorious minute, I thought about how we (moms) are so good at taking care of everyone else.  My kids' teeth never miss their twice a year dental appointments, they have every school supply they need for projects and I put my "new computer fund" towards my daughter's new flute.  I drive them to their weekly sports practice, fix healthy, balanced lunches daily, spend countless hours in carlines and help with cookie dough PTO sales so they can win the little Noisy Toilet prize.
Meanwhile, I put my last hair cut off so long, my hairstylist couldn't remember my style. So, I got  a new one. Surprise!  I have to color my hair every six weeks now because I've gotten so gray and since I can never remember my exact color when I'm at Target, it's like a new me every month and a half. This month I'm Very Dark Brown (emphasis on very not mine. Unfortunately.)
I haven't been to the dentist in ages and I'm down to my last pair of contact lenses and I don't want to talk about my exercise routine (mainly because I don't have one).
I live a busy life and even though I strive to be intentional in my busyness, I've become an expert at putting my kids (and even others) before myself.
This is part of what makes us mothers, the ability to set our own needs and desires aside and put our children first. We all have stories-from bed rest to breastfeeding, from self-denial to making their dreams come true, we sacrifice for them on a regular basis. We rock it, too. Motherhood is a high calling. And we do it so often, we  often don't realize what or who we are sacrificing.
Mothering is exhausting and physical, emotional and spiritual, exhilarating and defeating. It's filled with pain and beauty, often in the same moment. We make people and it's no small thing. But mothering will consume every part of us and we must not let it. Our marriages will suffer, and our children will too, because really, that much attention isn't healthy for anyone.
Do you know what's harder than being mom some days? It's being courageous enough to put everyone else on hold so you can take care of your own health, your emotional needs, and even your toes on a rainy day that started with a speculum.
I'm telling you all this because I want you to listen nd learn what I'm still trying to grasp: take care of you. It's okay to put yourself first. It's okay to say yes to your needs, even if means saying no to someone else.
It doesn't make you less of a mom.
It makes you a better one.
So, that thing you've been putting off, go do it. Because those things are back on my "to do" list.