I've never been a good recycler. I aim high with my recycle bins and fabric grocery totes, but since I'm usually multi-tasking and running behind, I generally remember to recycle after the fact.
It's just not my ministry. Ya know?
But I love recycled things. Go figure. I'm glad someone is responding to the high calling. I love love love trash to treasure stories.  From Mercy House to my marriage, I've learned to view God as the ultimate recycler. He is the master of taking rubbish and redeeming it.
This month my husband and I are celebrating 18 years of marriage. I've written about our testimony and I'm so thankful He transformed the garbage of our lives into something for His glory. Our marriage isn't perfect, but it's evidence of God's hand.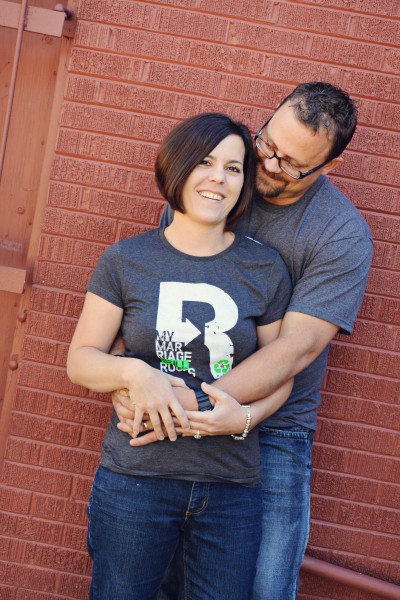 One of the things I love most about recycling? You get something new. There's still a trace of the old, but when it goes through the fire, something different, often better is created. After God recycled our marriage, 7 years ago now, we took my engagement ring, wedding band and an anniversary band and had them melted down. The three pieces were beautiful and I loved them, but we both wanted a new ring to represent our new marriage. But my original set was very special and we wanted to keep it.
A local jeweler crafted one new gorgeous ring from the materials of my 3 separate rings. It was the same, but completely different, better, just like my marriage. And that's exactly what God is able to do in your marriage too.
When my friends over at Union28 sent us their new new shirts, I smiled. I love knowing after all these years my marriage STILL rocks; It's getting better with age because God is the ultimate recycler.
Want to see my new (old) ring, click here.
______________________________________
Does your marriage still rock? Get the t-shirt or tote to prove it! Union28 is helping us celebrate 18 years with these awesome new Recycled shirts. Use Code: U28MMSR20 This code is an exclusive offer just for WeAreThatFamily readers!  It's good for 20% OFF 2 or more Regular-Priced tees & will be valid Thursday & Friday (12/6 & 12/7).