She returns from a long day of school and plops her too-heavy backpack on the counter, grabs a honey crisp apple and heads to her room. My table used to be her sanctuary, my presence her guide. But I hear her bedroom door close and I wonder at the other woman who lives upstairs and seeks solace rather than mother.
Her flute keeps her busy and now basketball practice and games. She babysits for family friends and studies in-between.
How did we get here so quickly?
She is growing up and I feel the world pulling her away.
My grip is loosening. She wants more freedom, I'm slowly learning to give it.
But no one told me watching your daughter become a woman would be so hard.
Or so beautiful.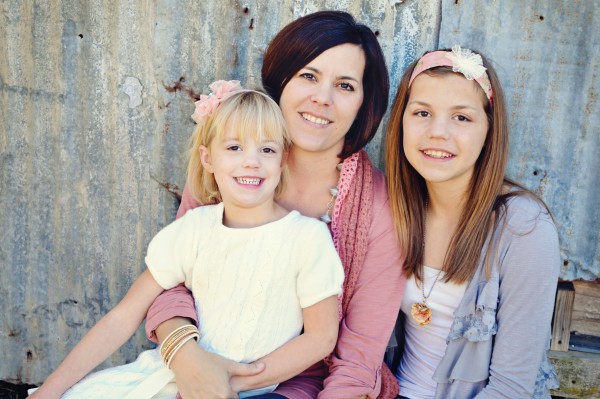 Her little sister in her shadow, these two strong girls cut from the same strong mold, both turning a year older, one shadowing the other.
They are my daughters.
They take my breath away with their drama and demands one minute and I'm humbled by their love of others the next.
My youngest adding the Muslims of the world to her bedtime prayers and my oldest carries the burden of knowing the pain in our world…I see it when she questions if child slaves made her costume jewelry.
It's hard fitting back into junior high girl stuff when your world has been expanded. We navigate these uncomfortable waters together. I've introduced my children to The Struggle (the one I wrestle with daily).  At 6, my little one doesn't know any difference and I'm proud her heart knows no limits.
We do the mother daughter dance and we have good days and bad ones. We say things we regret in anger, we forgive in the quiet places. We live with passion because we don't know another way.
I try to remember how my mom and I journeyed this road. I know why she cried when I left (and maybe rejoiced a little).
And rejoiced each time I returned (and maybe cried a little).
My baby reads now and has a wiggly tooth. She is hardly a baby, but when she brings me a book or asks me to pick out her clothes, I answer. Because she'll go thru a period of not asking or liking my answers.
I let go of my daughters a little more every day.
Because I know they will return to me.
As my friends.