I try to see it thru her eyes: the wonder of Christmas.
I try to shield her from the darkness in our world. The evil that would dare destroy innocent children during Advent.
She only knows what I've told her, her viewfinder is so narrow.
Time and space are still abstract in her 6 year old thoughts. She thinks hard and asks if I remember my first Christmas with her Daddy because 18 years ago is like 100 in her mind.
Yes! I say. And then she wonders aloud, "Was that the year Jesus was born?"
I smile and realize I look really good for my age, she is embarrassed at her question, but it gives me a greater glimpse into her understanding.  And I can't tell her everything because I want to protect her as long as possible.
But we've made our lives about this Jesus. And momma? What is Christmas really about?
We tell stories, sing songs, read Scripture, light candles, we limit gifts, talk about His birthday, but what is Christmas really about? Her question pierces thru the annual visit to Santa, the stockings hung with care. It dims the twinkly lights and it begs me to answer.
Her question makes me question my own answers. Because I don't have them for the horrifying events our world saw unfold in an elementary school last week.
I ask the same question.
What is Christmas really about?
I can't shake the sadness that comes with the death of innocent children, the empty arms of parents, the evil of our world. The joy of the season has dimmed and my heart cries one phrase.
O Come Emmanuel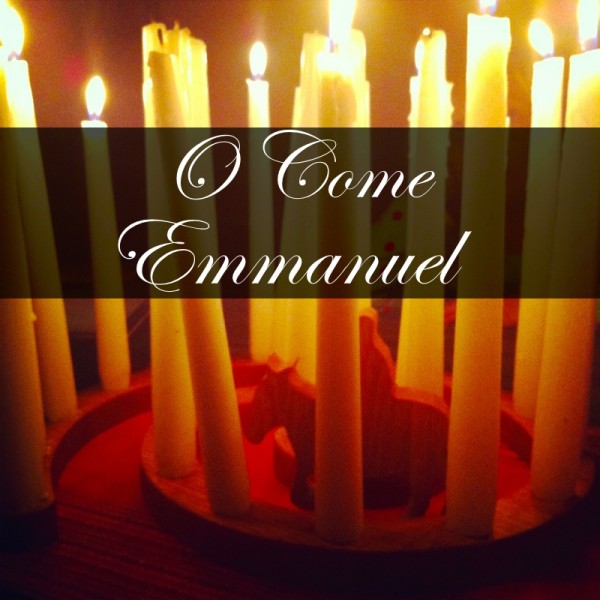 I try to describe the stable, the smells, the sacred moment when Heaven kissed earth. I try to shield my children from the darkness that makes no place safe. Our Pastor tells of the 400 years between prophecy and fulfillment.
The quiet.
The long waiting.
The expectancy.
The desperate world.
The longing for a Savior.
The evil men who threatened the unborn Messiah
The need for Him to come.
He was born into poverty, he was unwanted by this world, evidenced in his lowly stinking surroundings. His coming foreshadowed what was to come.
Jesus came 2000 years ago–just when the world needed Him. The earth held her breath in expectancy. Waiting, hoping.
We live in a world that has pushed him away, banned him. But He is still exactly what we need.
Our world cries out for justice, peace, for Him.
O Come Emmanuel.
And that's what Christmas is about.
It's a foreshadowing for us today. Because we desperately need Jesus to come again.
I pull her close and I whisper, praying it's imparted in her soul. I try to protect my children from the darkness that seeks to destroy. I try not to be afraid of it myself. Jesus comes when we need Him most. He arrives when we can't hang on another moment. He delivers us from the enemy, He rescues us from ourselves.
Christmas is about Him coming.
And it brings with it the great foreshadowing that He will come again.
O Come Emmanuel.
—————-
As our world grieves the Connecticut massacre, we hold fast to Jesus. I join millions of others, lifting up these precious families during this Holy season.