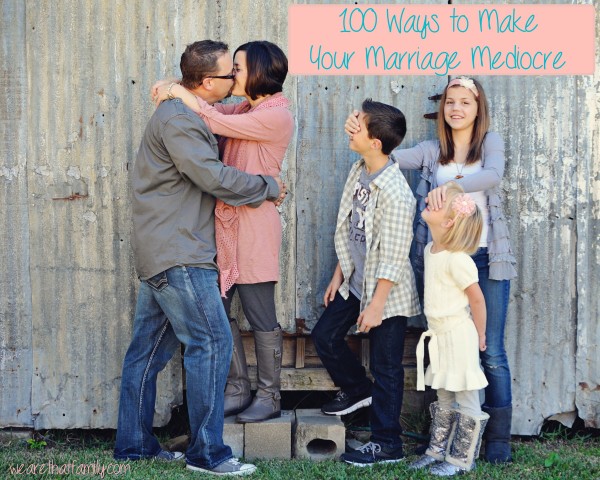 This time last year, I wrote this post. I had no idea it would be so popular (pinned more than 180,000 times) or so controversial (comments, whoa). Bottom line: there are a lot of people who want to make their marriage rock. I started thinking about all the things we do (out of habit, ignorance or selfishness) that make our marriages mediocre. Sometimes we just need to see them in black and white.
Stop pursuing each other
Discourage your spouse's dreams
Don't worry about romance
Doubt your husband's word
Remind your wife of the past on a regular basis
Don't pray together
Skip church
Play the blame game
Pout often
Let a film of dust cover your Bible
Don't show affection in front of your kids
Keep secrets
Believe that your spouse would never be tempted to look at pornography
Compare your husband to your friend's perfect husband
Have sex out of duty
Stay up and watch TV while your wife goes to bed
Never make time for a date night
Use the silent treatment often
Disrespect your husband
Criticize your mate on a regular basis
Flirt with old friends on Facebook
Talk badly about your spouse behind their back
Make a mess and never clean it up
Focus only on your hobbies
Be a name caller
Complain about how often he wants to have sex
Complain about how often she never wants to have it
Fall out of love
Don't ever bring her flowers
Never attend counseling
Or read a marriage book
Look at your smart phone while she is talking to you
Only touch when absolutely necessary
Pick him apart and make every little thing a big deal
Hide your feelings
And then resent your spouse for not knowing them
Use sarcasm constantly
Start an emotional affair
Say "It's not my fault" often
Over commit your kids and fall into bed exhausted every night
Take a long second (and third) look at your attractive co-worker
Make your life all about you
Nag
Lie about how much you really spent on your shopping trip to the mall
Hold onto unforgiveness
Don't apologize
Try to change your mate, but never yourself
Be defensive
Make her feel like she's not a good mother
Withdraw
Be immature
Ignore what God is asking you to do
Doubt your husband's role as a father
Yell
Live with unrealistic expectations
Get into debt
Be a tease
Don't do what you say you will do
Read 50 Shades of Gray
Let your spouse carry most of the workload
Use the words "always" and "never" when you're disagreeing
Don't call when you're going to be late
Overreact
Choose anger
Don't do fun things together
Don't give your spouse attention
Put your kids before your marriage
Give your children permission when your spouse doesn't
Resent her
Ignore him
Tell the inlaws all the details of your arguments
Don't communicate as lovers
Fantasize about other people
Put your job before your family
Don't work on your friendship with your spouse
Act like you really don't like your mate
When he compliments you, don't receive it
Do what you've always done
When your spouse asks you to help out or serve them, say no.
Don't try to make her happy
Don't try anything new together
Undermine your spouse
Try to fix all her problems
Talk all the time and never let him say a word
Make listening optional
Don't kiss
Threaten divorce
Collect unresolved issues
Don't make family dinners a priority
Let the TV stay on constantly
Keep God out of your day-to-day living
Don't be vulnerable
Or share intimacy
Forget why you fell in love
Be ungrateful
Stop loving and believing in yourself
Believe that your marriage will never be better than it is right now
What would you add in the comments?