My teenager stood at my bedroom door unsure if she should come into the war zone. She was the only child in the house who didn't have a fever or her own puke bowl.
We were on day six of the Apocalypse, also known as the stomach bug from the pit of Hell. Believe me, you don't want details. But if it can be washed, it has been. And I've cried twice.
We canceled Spring Break plans and I warned people at the door that we were quarantined to our home.
My bedroom was littered with pillows and pallets and pathetic little people.
And I was in the middle of it.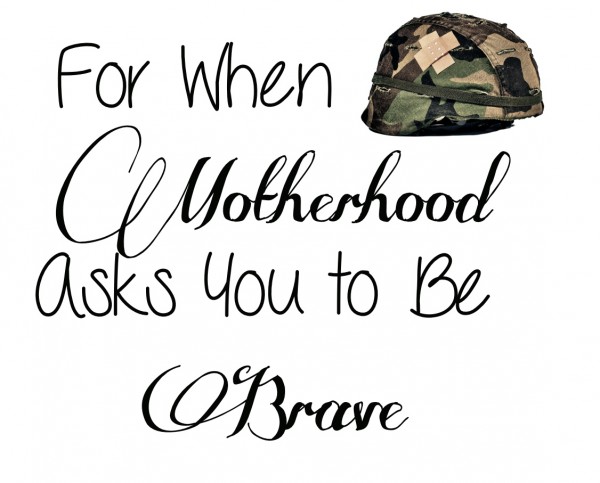 "Mom, aren't you afraid to catch it?" My teen asked from a safe distance. I had Lysol in one hand and an empty gatorade bottle in the other. I look down at my rumpled shirt and blew my unwashed hair out of my eyes, "Honey, I'm the Mom."
It was a simple answer that held volumes of truth. It said:
Mothers push past our own fear of sickness, intimidating laundry piles, smells that turn our stomach and we snuggle up to sick breaths and feverish brows because that's what we do. 
We run straight into danger–whether it's sickness, hurting kids, temper tantrums or math homework–  we fight the battles instead of turning away from them. 
Some days we long to hold up a white flag of surrender. But instead, we mother on.
Motherhood is about sacrifice. It's about putting someone else's needs in front of our own. It's about risk. It's about bravery.
It's about facing our fears head on.
And sometimes it's a very real danger-the kind that asks you to kneel beside the bed of a desperately ill child or on your knees for a desperately wayward one. The battle can be bloody and heart wrenching.
We don't always feel strong or courageous. Some days we cry and rant, but we don't quit. Most days, we feel outnumbered and out of ammo. But our inadequacies don't make us any less a mother-soldier.
Motherhood is about reaching deep and when you find nothing left to give, you reach for God.
The battle of life is, in most cases, fought uphill; and to win it without a struggle were perhaps to win it without honor. If there were no difficulties there would be no success; if there were nothing to struggle for, there would be nothing to be achieved. -Samuel Smiles
I'm tired. I hurt for my kids. I'm disappointed sickness consumed our week. (But I am rejoicing that my little sick platoon can aim their vomit in a container now-silver lining).
I'm learning: When God stops you in your tracks, it's time to slow down and pull close.
Just not too close, ifyouknowwhatImean.
My daughter returned to the Sick Room, holding two bright balloons she'd decorated for her siblings. She crossed over and handed them the simple gift and it made us all smile. Then she said the words I dreaded, "Mom, I don't feel so well…" My husband came home a couple of hours later with the same confession.
And even though this battle is small and fleeting, I'll conquer it. It will strengthen me for the unseen ones ahead.
Because it's not if I'll need to be brave again, it's just a matter of when.