Updated with Random Winner: Congrats to Julie, commenter number 7!
How sweet are these?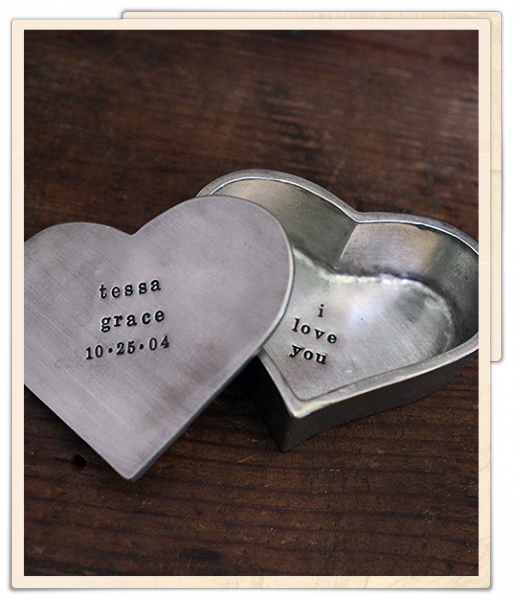 The Vintage Pearl, an Oklahoma based business, has been my go to hand stamped jewelry shop for years. I love the heart behind the company, the quality of their products and The Cute. Because seriously, they have mastered both.
For example, earlier this week when the Oklahoma tornado devastated Moore, they offered this gorgeous piece and gave 100% of the proceeds to the Red Cross to help aid in relief efforts. They have raised an incredible $150,000!! Amazing.
I love these new Sweetheart Jewelry Boxes because you can customize them for a special event and put a sweet secret message inside. It's the perfect place to keep your special silver necklace too.
The perfect little trinket box to hold your lovely little keepsakes!

This jewelry box measures about 3 1/2″ across. It's a 2 piece heart box with a lid that was hand molded in our studio and then cast in fine silver– it has handmade imperfections that make it perfectly imperfect. This handstamped jewelry box looks beautiful on your bedside table, ready to hold your favorite tvp pieces and keeping them safely stored when you're not wearing them. You can customize both the lid and the inside of the heart by handstamping them with names, dates, an inspiring quote, an inside joke, favorite scripture, whatever is meaningful to you– making it a unique custom keepsake.

This jewelry box makes a sweet gift for mom, grandma, a new bride, a graduate and more!
Today, I'm excited to give away one custom jewelry box to a lucky winner.
Tell me what you love at The Vintage Pearl as your entry.