He gets up at 4:30 a.m. most mornings, gets dressed in the dark, returns from pushing his body to its limits with Crossfit in his fight against diabetes. I start my day nearly 2 hours later, often to the bath water he runs for me or the sound of him making school lunches.
I am married to a good man.
We met in Bible College more than 20 years ago. I married a Pastor, we served The Church together the first nine years of our marriage.
When we left full time ministry nearly a decade ago, we were desperate for a break and a breakthrough. We ended up discovering a whole lot of brokenness. While we loved working together (offices next door and some killer youth illustrated sermons and vacation bible schools), our glass house needed some attention.
So we quit the only thing we knew how to do.
And spent the next five years finding Jesus in the broken places.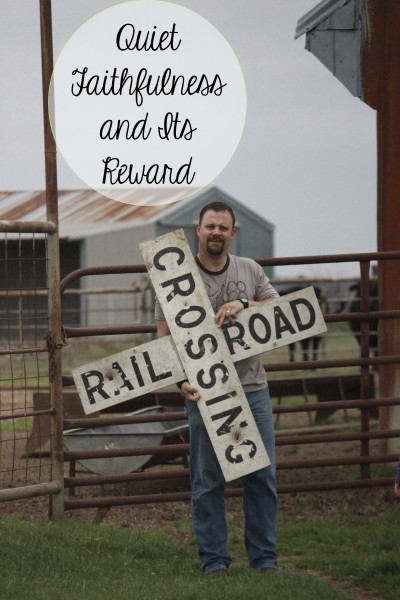 What started out temporary ended up being transforming and more permanent than we could have imagined.
Those first 5 months out of ministry were like a breath of fresh air. They were also terrifying. We were jobless and homeless (staying in a family member's rent house). On the sixth month, my husband got a job offer.
He took it and has had the same job for 9 years and 4 months. That's sort of a long break. And I'm pretty sure we can't call it a break any longer.
So, this pastor-turned-sales-rep reinvented himself. He is smart and hard-working. And his daily faithfulness to the mundane takes my breath away.
My husband's dedication to his secular job is the only reason we were able to start Mercy House three years ago. His hard work and consistency provides for our family, and has offered me the freedom to serve without being paid.
I'm still married to a pastor. He shepherds our family. He prays with co-workers and shines Jesus in his work. He is a light in our dark world. He spends evenings and many weekends quietly serving in the work of Mercy House.
It has been a hard road. One with turns and obstacles we didn't expect.
"Life is not a straight line leading from one blessing to the next and then finally to heaven. Life is a winding and troubled road. Switchback after switchback. And the point of biblical stories like Joseph and Job and Esther and Ruth is to help us feel in our bones (not just know in our heads) that God is for us in all these strange turns. God is not just showing up after the trouble and cleaning it up. He is plotting the course and managing the troubles with far-reaching purposes for our good and for the glory of Jesus Christ." -John Piper
But Jesus has been with us down every path. And as we dream of the future and ask God for direction, His invisible hand guides us. For His glory.
Hindsight is enlightening. God rewards faithfulness. Here's what I'm learning:
God uses our brokenness for His purpose
What He puts back together, heals stronger.
Loving people is a full time ministry (title, position, pay, not necessary)
God plots our course for His glory.

There are setbacks and tragedies in our journey.

But there are also rewards (and sometimes they look like Hawaii!)
[P.S. We just found out that after nearly 10 years on the job, my husband earned a once-in-a-lifetime trip for two to Hawaii in August for being one of the top 10 sales reps in his company.. We are going to Hawaii!]