Summer is so close I can smell it.
The grass is getting greener, the sun is shining brighter, in other words, it's getting harder to get my kiddos out of bed each morning.
I love summer–especially those first few weeks of bliss and togetherness.
Then boredom strikes and I make them turn off the TV and go play outside. As a work-at-home mom, it always a balance between squeezing in work in the cracks of my time. I already have things on my current TO DO List like "1.pay for camp  2. stock summer box (see below) 3. get kids a bathing suit."
So, when I read the new ebook Kid Ventures: 50 Outdoor Experiences of Wonder, Discovery and Childhood Memories, I knew this would be a good resource for our summer time together. (Ebook available May 8, 2013)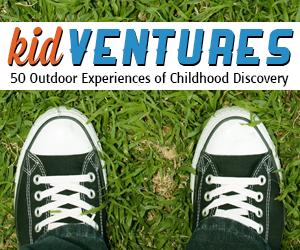 It has 50 awesome ideas with picture tutorials. Some of my favorites are Build a Homemade Toy Zipline, Make Coffee Can Ice Cream and Build an Outdoor Fort. My girls are rough and tumble and I know these ideas will keep them busy too!
7 Reasons You'll Love This ebook:
50 Simple Ideas to Get Outdoors & Connect With Your Child

Promotes Hands-On-Learning, Creativity, & Active Adventures

Frugal Fun for the Family

Suitable Ideas for Kids Ages Preschool to Preteen

Clearly Outlined Step-by-Step Ideas

Seasonal Suggestions for Every Climate

Additional Printables, Diagrams, and Resources
Buy it Now for $4.99: Click on my affiliate link to buy KidVentures.
Make a Summer Box
I have a plastic tote I'm calling our Summer Box. I'm collecting fun activities for when boredom strikes. I don't want my kids spending their summer on screens and so I'm hoping the goodies in this box will help stimulate their creativity. I don't normally print ebooks, but I'm putting Kid Ventures in there, because my kids are old enough to do some of the activities themselves. So far, our box has a big jigsaw puzzle, fresh art supplies, water guns and balloons, a stomp rocket, origami paper, rubber bands to make bracelets, sidewalk chalk, and a new book for each of my kids.
It works for me (will hopefully!)