I sent him off to camp for 4 days with his big sister and a bunch of friends from church. He packed his own duffle bag and I double checked it, adding socks and a toothbrush, not necessities to an 11 year old boy. When I arrived at the camp to get my kids, I spotted him in a group of boys who needed to brush down cowlicks and change shirts. He smiled when he saw me and hugged me–with his eyes. We both know our limitations in front of his peers.
Once we were home, stories and adventures spilled out from my weary kids coming down from a camp high. For the rest of the day, everywhere I turned, my son was my shadow. He sat next to me while I paid bills. He followed me into the kitchen and asked me where I was going every time I stood up. I gave him a questioning look (after I answered the bathroom at one point). "Mom, I just want to be with you."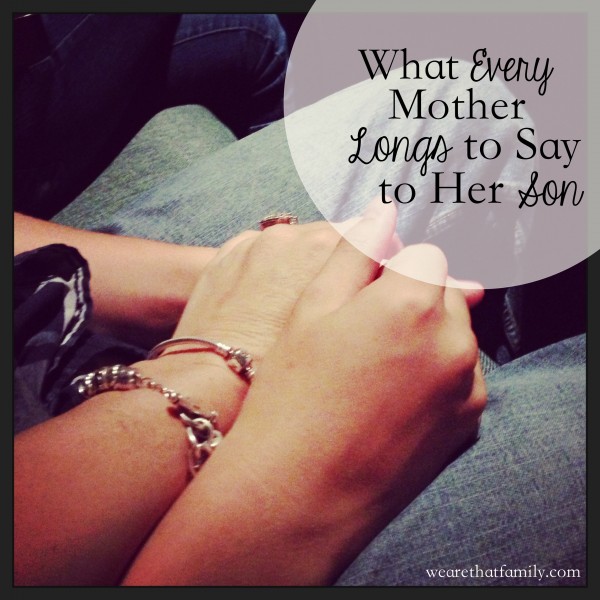 When nurses handed me that blue bundle of baby boy, I fell in love with his dark eyes and curly black locks.  It didn't take me long to understood the other moms who said, "Oh, a boy? There's nothing like the mother-son relationship."  As he grew into a toddler, he bedazzled the world with his friendly waves and honest (often embarrassing) questions and comments. He tried to take everything apart with a hammer and put it back together with a screwdriver. He let his sister dress him like a princess and his dad dress him like a future athlete. I birthed the most easy-going, kind son a mother has ever known.
We sat next to each other in church the other day. He stands shoulder to shoulder to me now, knee to knee, constantly measuring to see if he's taller (any day now). As he sang, I watched his adam's apple bob, his handsome profile looking more tween than boy. I thought of his constant, sometimes annoying, noises and sounds, the way he still is the first to ask me how my day was and how he notices every time I wear something new. I thought about how he tenderly held babies in Kenya, how he can't walk by the piano in the living room without playing the Star Wars theme song and how much I loved watching him fall in love with archery this year.
I felt the bubble of emotion well up, sitting there, taking in my son and I felt sad that more than half his time at home is over. I leaned over and whispered in his Daddy's ear, "I wish we had more sons" and the words caught and I had to blink away tears.
My son looked at me then, not hearing what I'd said or seeing how my heart was swelling with love. I patted his hand. He didn't look around to see who might see. He didn't push my hand away. He held on. We sat the rest of the service hand-in-hand.
In those moments, without words, this is what I said to my only son:
I am the first girl you hugged.
I am the first girl you kissed.
I am the first girl you made laugh.
I am the first girl you made cry.
I am the first girl you hurt.
I am the first girl you held.
I am the first girl you tried to impress.
I am the first girl you flirted with.
I am the first girl you called pretty.
I am your mother.
No matter where you go in this life–how far you fly away from me–nothing will change that I was your first love.