I like to watch my teens get off the bus and walk up the driveway from the dining room window. It's their first year to ride the bus home from school and it has brought them closer in a way I didn't expect, but constantly prayed for. I mean your little brother is annoying until he's the only one you know in an unknown situation, ya know?
I hand them snacks and listen for the highs and lows of their days during the precious 30 minutes before I head out to pick up their little sister a few blocks away. It's the small window of time where they want to talk about ALL THE THINGS. And if you have kids this age, you know how important it is to listen. Because junior high is a whole new world and so many of the things we've taught them and prepared them for are here.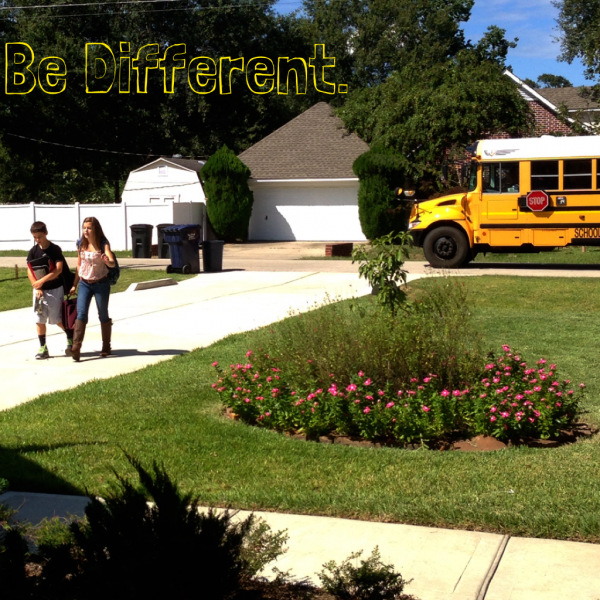 My oldest said one day last week, "We watched a Social Media Awareness video today," and I could tell by the look on her face, she was waiting for me to respond. "Really? Tell me about it."
And she did, little brother listening, munching on a granola bar, an apple in hand and eyeing a bag of chips. (This is normal, right? I'm looking at you moms of tween boys).
She told me that the teacher asked some questions before the video and had the students raise their hands, questions like:
Who has a Facebook account? Who is on Instagram? Who has a Twitter account?
And so on and so on…she named several social media platforms I had never even heard of.
By the time her teacher was done, my daughter said she looked around and nearly every hand was raised.
Hers were folded in her lap.
I cringed at her story. Because for this time in her young life, we've said no for her to social media. We have explained that it will have a time and place in her life, but now isn't the time. We all have to decide when our kids are ready and deal with the filtering and follow-up of allowing these social media influences when we're ready.
Our decision (and her decision to comply and not sneak around us) has separated her from some of her peers. This isn't to say she's the only one or that all social media in the hands of junior high kids is wrong. That's not what this is about, it's about choosing to raise your kids based on what you feel like is right for your family, even if it goes against cultural norms and as a result, makes them feel different.  We've made counter to cultural choices regarding modesty and not allowing the too short shorts and whatnot. We refuse to think it's cute for our kids have boyfriends or girlfriends and well, they just don't. We don't allow our son to play Teen rated video games and we insist on not letting things interrupt family dinner time.  You get my point.
"Did you feel alone? Are you okay?" I asked dreading the answer. Because my kids are lovely and amazing but they both wanted smart phones yesterday.
Her answer surprised me. "Mom, I was so glad I didn't have any of those social media accounts. The video talked about all the horrible, terrible things that can happen, like being lured into bad relationships, older adults seeking out kids, all the bad language and sexting and did you know people can take your images and do bad things with them? I just don't think I'm ready for all that responsibility," she confessed.
I'm not going to lie, I WANTED TO HUG HER PUBLIC SCHOOL FOR THEIR COURAGE.
[Sidenote: I know many of you homeschool or send your kids to Christian schools. I love that choice for your family. We send our kids to public school. We have had some of the most amazing, Godly teachers I've ever met. We evaluate each year in our constantly changing world and haven't ruled out any form of education, but for today, public school is the right answer for us.]
If I have learned anything in our quest to raise our children counter to our cultural that is all about instant gratification, growing up too quickly, objectifying our children sexually, THE LIST GOES ON, it's this:
Raising our children to be different than the world, makes them different.
And when really all they want to do is blend in, they stand out. Teachers notice, as do other parents, but kids notice most. And if different is anything like it was when you were a kid, you know just how hard that can be. And it may not be opting out of social media that triggers it for your child, it might be not dropping your tween off at the mall to meet friends or not allowing your kids to see PG-13 movies…it might look different for every family. But when you decide to stand up against a cultural norm, there's usually a few people in your life, community, even church, who will question your choice. Mainly because it makes them question their decision to go with the flow.
All the right-from-wrong teaching, character building, faith-instilling, inspirational parenting you've spent years living in your home is producing children who do not fit into the mold our society has deemed normal. And it leaves us with kids who sometimes feel left out, different and even alone. But this doesn't mean we've failed them, it's through this, their faith is being forged, their relationship with you, rocky days and all, is deepened and their dependency for a friend like Jesus is becoming clear.
Here's the thing:  We live in a culture that has drifted further from truth and Biblical principals than ever before. Where the line was sort of fuzzy 20 years ago, it's more defined now. There's a line drawn right down the middle for our children and they are either trying to live for the world or trying to live for God. I believe this is the time where they begin to question which side of the line they want to be on.  And however you choose to raise your children, they will eventually have to choose a side.
It becomes vital that we stand with our children and help them build Christian community around them, inside of school and outside. This is often hard, prayerful work. We have literally prayed Christian friends into our kids lives, attended campus Bible clubs, driven to age-appropriate Bible studies, chased down mentors, stood around the flag pole with them, emailed teachers, fought this battle with them every step of the way.
Because my kids feel different. And that's exactly how I've raised them to feel.
But that doesn't mean they can't live in beautiful, amazing, fulfilling community. They can by finding other kids who are standing up for what they believe is right. And that's exactly what we're trying to do. One by one..
Raising our children to be different is Biblical. It's also refining for them and us when they stand apart or struggle to do so. But it's crucial we stand with them when they succeed or fail, providing alternatives and support in their journey.
"It's happening, honey," I said to my daughter the other day who has longed for deeper friendships at her new school. "God is answering your prayer. He's sending good friends into your life."
Her face lit up. And it was almost like I could see her faith deepen right in front of me.