"Mom, I can't access "health and beauty" on Pinterest. I wanted to watch a hair braiding tutorial. Did you add another filter?" –words from my 13 year old daughter.
Oh, how far we've come with technology.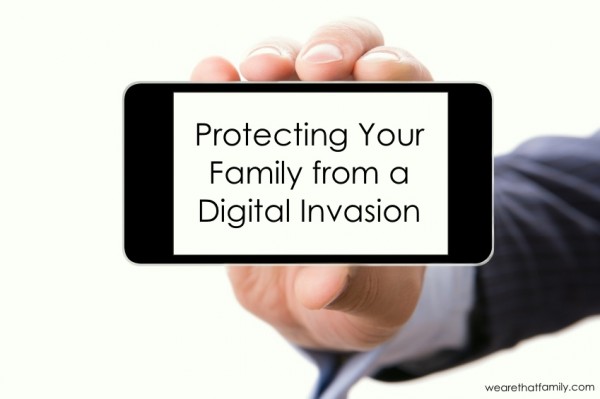 In 1997, I heard my first dial up to the Internet from the new shiny desktop computer in our first home. I got an email address.  It changed my world.
Way back when eBay was virtually unknown, I sold stuff to stay home with my first child. The Internet became an avenue for me to communicate and work without ever leaving my home (or getting out of my pajamas. Whatever.)
I know there are people in our culture who have opted out of owning a TV or a radio. They don't stream Netflix or go to the movie theatre. They try to limit the influence of our culture. Believe me, I get this.
But most people in our society have access to the Internet at home. And many have it at their fingertips all the time from their phones to hand-held devices.
I wouldn't be a blogger, an author or a non-profit founder without the Internet. It's a big part of my life. And it's the way of the future, from education to communication to hair care apparently, nearly every aspect of our lives is impacted and dependent upon technology. It's great and my family embraces the digital age as much as the next.
But it's scary because our generation of children have more access to technology than ever before. And with access, there is a barrage of negative images and information, we'd rather our children not be exposed to. As parents, we have to monitor not only what our kids are exposed to, but also their access.
Side note: I will say that as much as we try and filter bad things from coming in, we simply cannot protect our children from every bad image out there. It's not possible or realistic. Our children are curious, sexual beings (scary thought, isn't it?). As they mature, it is completely normal for them to be interested in sexuality. So rather than stick our heads in the sand and live in fear of them seeing a nasty image, we do what we can to filter and then we talk to them about what they will eventually be exposed to in some way. We explain through grace that the emotional and sexual feelings they are tempted with are NORMAL and most importantly, we offer them solutions on what to do with their curious thoughts by teaching them self control.
But today, I'm talking about establishing digital boundaries in your home.
My husband asked me to listen to this podcast the other day by authors Dr. Arch Hart and Dr. Sylvia Frejd, who co-authored the book Digital Invasion, The: How Technology Is Shaping You and Your Relationships
. Let me tell you, I was convicted. Because my job is on the Internet and it takes a lot of restraint (which sometimes I display and sometimes I don't) to turn off technology.
While we heavily monitor what our kids are exposed to and over filter everything (I'll share our favorite one tomorrow), we need to turn it off more. It's our responsibility as parents to monitor good use of technology in front of our kids. I read a quote once about a mom gossiping about another mom who was on her iPhone the entire time during a birthday party. One of the ladies in the group responded, "Just think about how busy that mom must be to be on her phone. Isn't it awesome she's at the party?" Honestly, it made me feel less guilty about taking that important skype conversation in Kenya or sending the email regarding an issue at Mercy House.
But at the same time, no matter how busy we are, there is technology etiquette I want to establish in my home and model for my kids. As encouraged by Dr. Hart and Frejd:
 Establish Digital Boundaries
Don't check your phone while you are in a conversation (My kids don't have smart phones or email, but some day they will. For now they are watching my husband and I).
Don't check your email/phone before you read your Bible (ouch)
Take regular fasts from technology
Set a time limit (see below)
Time limits below might be shocking, so start by cutting whatever your kids are currently doing in half
According to America Academy of Pediatrics, based on research, this is the amount of time our children should be viewing technology (TV, games, computers, etc):
0-2 years old-zero technology
3-5 years-1 hour a day
6-12 years-90 minutes a day
13-19 years-2 hours a day *Most kids spend over 8 hours a day on technology
Of course, I realize that isn't always practical. There are sick days and long, hard mom days (I KNOW, BELIEVE ME). But I think once we become aware of how much are kids are interacting with technology, we can evaluate if it's too much.
(Here's what is already on our etiquette list):
Don't bring technology to the dinner table
We allow 30 minutes of mindless TV during the school week and 30 minutes of (educational) computer time or games and we are more lax on Saturdays
Observe media free time every Sunday until 5pm
A recent study that interviewed 1000 kids from the ages of 4-18, showed these results: Technology is becoming a kind of "co-parent;" too much screen time is impeding childhood development; and parents' obsession with their devices is harming communication with their children and even fracturing families.
"Children hate it when their parents pick them up and are on their phones and don't even turn to say, 'Hi honey, how was your day?' Instead they're giving them the shhh one minute signal which basically says 'you're not as important to me as whoever this other person on the phone is.' Car rides to and from school as well as dinner, bath and reading time — parents should be present and phone-free for all of these daily rituals, she says. "Kids do not need our undivided attention all day long, but they do in those real-life moments of talking and reading and doing the hard work of parenting — dealing with meltdowns, teaching them how to pick up their clothes." The bottom line: If you think your kids don't notice that you're distracted, you're deluding yourself."  The Big Disconnect: Protecting Childhood and Family Relationships in the Digital Age, Catherine Steiner-Adair EdD
And that quote alone, makes me want to unplug from technology and plug into my children.
Do you have technology etiquette in your home?