[You know how you lose track of days and forget to put up your weekly blog carnival because you think it's Thursday and Not Wednesday? Yeah, me neither. Here's my WFMW, better late than never]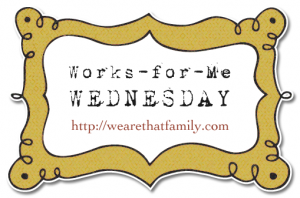 Our household alarm for 4 out of 5 of us goes off at 6 a.m (our youngest goes to school later, so we wisely let her sleep until 7:15).
After snoozing it a time or two, we are up and bustling at 6:15ish.
It's early. I want my kids to have a healthy breakfast and I try. I really do, but sometimes we are rushing around like crazy people. Imagine that.
My sister told me they make breakfast burritos in bulk and freeze them. I visited Pinterest and found a dozen or more variations of this fabulous idea.
What you need:

a paper towel for each burrito (we cut a big stack in two)

a piece of foil for each burrito

20 or so tortillas

18 eggs

Grated cheese

Meat of choice: sausage or bacon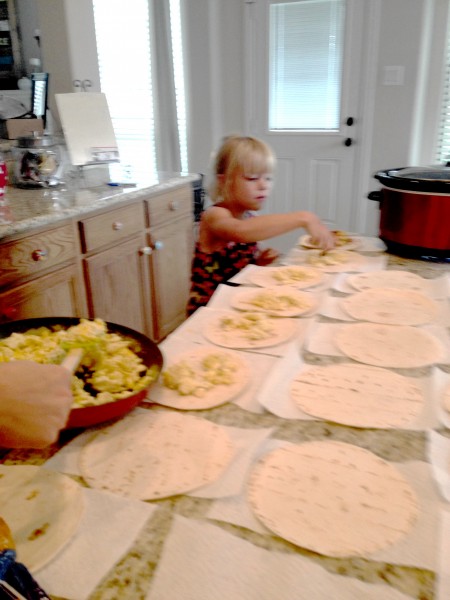 Here's how it works for us:
Scramble 18 eggs (I don't add milk because I don't want soggy burritos)
Prepare some kind of meat…we will try sausage, but for the first time, we used bacon.
Lay out 20 or so flour tortilla that you've microwaved for 15 seconds to make them pliable and scoop a large tablespoon or two of eggs, plus toppings or your choice.
Wrap burrito (fold in both sides) in paper towel and then foil.
Freeze.
To defrost:
Unwrap foil, leave on paper towel
We have a quick defrost feature on our microwave (takes about 2 minutes) or you can set them out in the fridge the night before. Once our burritos are defrosted, we heat them for about 20 seconds.
When you're on the go, you can have a delicious breakfast ready in less than 3 minutes!
It works for us!