Marriage, according to kids:
HOW WOULD THE WORLD BE DIFFERENT IF PEOPLE DIDN'T GET MARRIED?

(1) There sure would be a lot of kids to explain, wouldn't there?
– Kelvin, age 8

HOW WOULD YOU MAKE A MARRIAGE WORK?

(1) Tell your wife that she looks pretty, even if she looks like a truck.
– Ricky, age 10                                                                                                                                                   [source]
It's an early morning breakfast-packing backpacks-lunches and kisses on the cheek-out the door kind of life.

We separate. We work hard. All day long. There is homework and poster board projects, reading logs and flute rehearsal. There's the tapping of drumsticks and the bounce of the trampoline. There's coloring at the table. Carrots on the cutting board.
I hear the door click and I take a long deep breath. He's home.
And though the world and work and life pull us apart. Our family longs to be together–so we can live crazy-beautiful.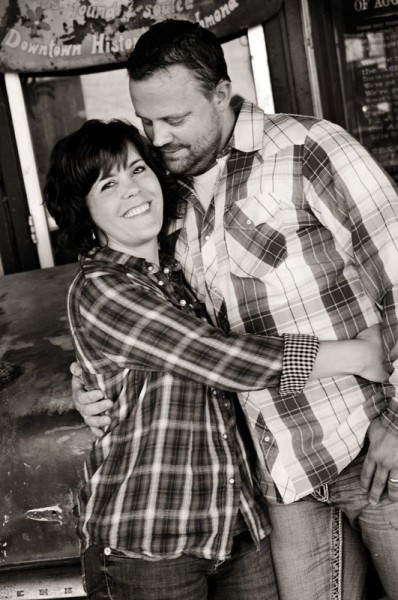 We pile around the kitchen table. We pray and are thankful. Sometimes. We wipe a spill. Always. We laugh at highs and lows and we open a book together. We reread sentences that weren't listened to the first time. And we try and stay around the table as long as we can. I start to tell him All The Things on my mind and I don't have the energy to compete with my kid's stories or interruptions. It can wait.
Dinner ends and we scatter: there's sibling rivalry over who should unload the dishes, who should feed the dog, a load of clothes is started, last bits of homework are done. I pick up shoes and a doll and the pieces of our lives and start preparing for another day. He reads another chapter to our youngest and puts her to bed.
My husband walks into our bedroom and he looks tired. I can't wait to curl up and talk. Because some days, I feel like I'm going to fall apart.
But just about then the water spout in the upstairs bath breaks mid-stream and it won't shut off and water pours, my oldest panics with a towel on, he runs with a toolbox and I don't have a chance to pour at my heart. Instead our tween son who can't sleep lays in his father's spot for a few minutes pouring out his heart.
It's nearly midnight when we hold each other and there's nothing to say to the everything we're too tired to say. We speak in the tangles of sheets and beating hearts. We fall together.

Life on repeat. The next day is filled with tacos for the 25 who show up to community group and spill into every seat in the house. There are basketball tryouts, grocery store visits and unexpected bills.
As our kids get older and stay up later and need us more emotionally, the window of time with my husband gets smaller everyday. We are married with kids and while we wouldn't change it for a second, it's entirely too easy for our marriage to get lost in the demands of parenting and jobs and serving and we find the day is over and we haven't had one conversation. It threatens to pull us apart. Can anyone relate?
With every season of parenting, it affects our marriage…from newborns and unthinkable sleep deprivation to worries about a wayward teen or a hard-hearted tween, it's tempting to work against each other instead of together. And those are the easy days, that don't even include the scary moments when serious illness threatens or outside influences tempt our children away. I've watched so many marriages simply fall apart after the kids leave, as if they were the glue holding the union together.
Here are 5 things we are doing to stay married long after kids leave:
Regular date nights::My favorite part of this connected time is talking with my best friend. It's not uncommon for me to start a conversation in the morning and finish is after dinner because of distractions or interruptions. Date night is the perfect time to talk about everything and nothing. We sit on the same sides of the booth and hold hands under the table. We are desperate to connect because we have lived unconnected before. Our dates might be a 30 minute coffee between appointments or a swing on the hammock with the kids inside. It doesn't matter what they look like, it matters that they happen.
Making space for alone time at home:: Let's face it, one date a week isn't always possible. Or likely. I am envious of those who can pull it off. But you can still pull off space together. Terrell has always had this thing–the minute he walks in the door, he doesn't stop at the kid's questions or clamoring for attention, he walks straight to me. We usually hug and kiss and then he'll turn to the kids' demands. And we aren't afraid to tell our kids we need alone time together. We lock our door and make it happen.
Spend overnight time away together:: This is a fairly new goal for us. And we decided (after doing it) it's a pretty important way to refresh and reset our marriage. It won't always look like this (sob), but even one night away on our anniversary or sending the kids to their grandparents is something we look forward to. Once a year is our goal, but we'll take more!
Connecting beyond the kids:: Perhaps the most important thing we can do beyond spending one-on-one time together, is relating beyond our children. It's so easy in our culture to focus all our attention on our kids that we stop doing some of the things that brought us together in the first place. Carving out time to support each other's hobbies, chase one another's dreams is important now and in the future.
Let Jesus be the middle ground:: Let's face it, life and love and loss are mingled with joy and tears. Sometimes we don't see eye-to-eye or don't know where to go or which way to turn. That's when we fall to Jesus. Because He holds our lives, our kids, our future and He turns two independent, willful parents into One.
Children are a precious gift from God. They fill our homes with laughter and love and give us a reason to keep buying fun cereal. Children can deepen and enhance our marriages, they teach us so much about God and even more about ourselves, but the parenting bumps in the journey can add stress to our marriages. It's crucial we take steps to grow together as our kids grow up.
So we can fall together.
Instead of apart.