"You mean we won't be eating turkey?" my 6 year old asked in surprise.
There won't be a turkey.
Or a pumpkin pie.
No, mashed potatoes or a food-coma-football game.
For the first time in our family's history, we won't be celebrating Thanksgiving.
We will be living it.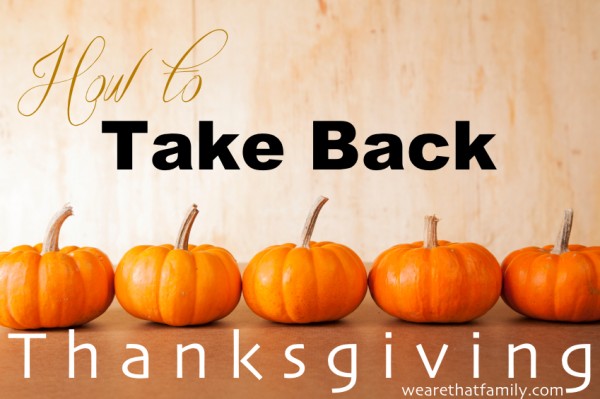 We will be holding babies in Kenya that weren't supposed to be born. We will be hugging girls that should have died. We will be eye witnesses to the remarkable story that God has written.
"Will we even know it's Thanksgiving Day?" she asked.
Yes, we will know, darling. Because Thanksgiving is more than food and parades and bounty. It's testimony. It's looking at what God has done-from the mundane to the miraculous- and breaking bread, our lives, in thanks for it. We will know.
Your Thanksgiving won't look like mine. But I urge you to take it back. We live in a world that has turned a turkey into a god and God into something routine.
Five Ways to Take Back Thanksgiving:
1. Be intentional. Write down your thanks–on a paper tablecloth, pinned to a wreath, in a gratitude journal. Read it out loud. Share your thanks.
2. Share your table. Invite a single friend, a new divorced mom, neighbors, strangers and feast with them.
3. Don't be a consumer. I'm all about a good deal, but let's not turn this day of thanks into another day of shopping.
4. Give thanks by giving your life away. Find some way, someone to share your resources with. Look at your excess (toys, clothes, food) and find someone who needs what you have too much of.
5. Include God. It sounds trite, but it's powerful and freeing to remember and acknowledge where every gift comes from (God in Heaven).  Offer gratitude to the One who gives us breath and hope.