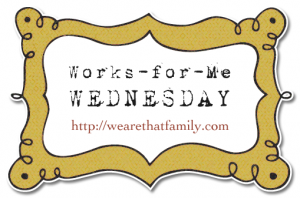 Hi, I'm Robin! When Kristen invited me to step into her space while she and her family are loving on those babies at Mercy House, fistpumping I thought, "Thanksgiving Week?  Yes!!  I know exactly what I'll write!"
And then she wrote most of it for me in her WFMW last week. ~ smile ~  Wonderful thoughts on taking back Thanksgiving, her ideas embody my soul's cry for the holidays.
So I re-grouped, incorporating one or two ideas in a new way and adding a few others, and today I'm happy to share What Works For Me this week:
5 Ideas to Make This Year's Thanksgiving Your Best Of All Time
1.  Require a ticket to the table.
When I host our family Thanksgiving meal, I require a ticket for admission for everyone.  We do this by way of our Thankful Box, and it's as simple as writing down at least one thing for which you're thankful and slipping it into the box before dinner.  After we're done eating, we pass the Thankful Box around, taking turns reading the slips of paper and trying to guess who said it.  It's a great conversation starter, it holds us together just a little bit longer, and it serves as beautiful reminder for why we're together.  If you're interested, I penned a little poem to go with mine, and one year gave it as an inexpensive but priceless Christmas gift, tucked inside a pretty box.
2.  Establish Your Signature Dish.
Can you think of specific dishes made by members of your family, the ones that are as eagerly anticipated as the holidays?  Well, if you don't already have one that everyone is begging you to cook, make that your goal this year!  Mine is apple pie; it's a definite labor of love because I have to make two to have enough (four homemade crusts!)…but the lip-smacking and declarations that I make the best apple pie in the world are big paychecks.
3.  Do Something Different.
As host this year, I was thinking through details for dinner when it occurred to me I couldn't remember a single specific Thanksgiving meal with my parents.  Horrified and wanting to make sure this wasn't the case for my babies, I asked my youngest (the only one still at home) for ideas.  Though I don't think I'll take the advice of my teenage son, I'm cooking up some surprises to go with our turkey.  Feel free to offer YOUR suggestions in comments–I'm listening!
4.  Give Surcies.
Wanna fill your family's and friends' cup to the overflow?  Gift them a little something that demonstrates your anticipation of their arrival.  Among family, this kind of thoughtfulness is unexpected.  It's a way tangibly to express I love you, and can be as simple as a scripture verse rolled in a tiny bottle (I received one of these and it MADE MY DAY!), after-dinner mints (or if you have time,  hand-pressed buttermints) wrapped in a little bag to freshen post-turkey breath.  Love notes at each table setting don't cost a thing, but they're word treasures.
5.  Remember Others.
It's likely you have family members too far away to visit, those who have experienced great loss since last year (through death of loved ones, marital strife), and others who are struggling through difficult circumstances (illness, financal, etc.).  Pick up the phone and call them.  Drop a card in the mail.  Serve with your family at a local ministry.  Don't feel like you have to talk an hour or write a dissertation–the act of remembering is a beautiful expression of love, and it could be the very thing someone needs to hear.
Heartfelt thanks to Kristen for allowing me to share Wednesday with you, and if you've never visited my blog (or it's been a long while), I've just unveiled my new design and I am thrilled to the moon!  Pop over for a visit?  I've got a few surprises waiting :).