This is the one where I've been married 19 years and turn 41 years old all in the same week.
This is the one where I tell you we didn't get to this place in our marriage because we are lucky. We aren't celebrating 988 weeks because we are blessed or holy or because we beat the odds.
We have been married for nearly two decades because we haven't quit.
That's not to say there haven't been a few times we haven't wanted to.
But we are fighting our way to a lifetime together.
The other day I got an email, the kind l I dread reading.
The ones that say, "My husband is leaving me. He won't go to counseling. He won't try. We are Christians, we love God, just not each other any more."
I don't know how to answer heartbreaking words. I'm not a healer. Or even that good of a listener. But people reach out because they recognize a miracle marriage.
When I wrote this post about divorce in America a few weeks ago, many were shocked by the hard facts. How can 50% of all marriages–among Christians and non-Christians, even atheists-all end? How can the statistics be the same for believers and non-believers?
I don't know. But I think the answer might be simple: Christians are human.
Christians fight. Christians are tempted and often give in to sin. Christians have emotional affairs. They look at pornography. They hold grudges. Christians stop trying.
I'm not excusing these choices. They are sinful and can destroy a marriage. But a marriage filled with forgiveness, fight and God can overcome even the worst humanity.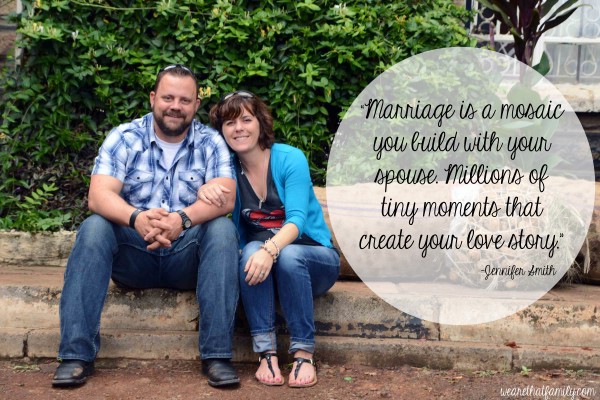 Our marriage has been filled with some pretty hard days. One of them was last week. We haven't arrived into some heavenly level of married bliss. Some days, weeks, lo, months, we claw our way back to each other. We fight hell itself to see eye to eye and to keep loving.
When I look at the mosaic of our 19 years, there are a lot of broken, mismatched pieces. There are jagged rough edges. Up close and personal, it's not that pretty. But when I step back, I see that we're still creating and the picture only gets lovelier with time. We are still forgiving, we are still committed and I can see a glorious picture of redemption. It's bits and pieces of both of us glued together with a lot of God.
I urge you today to fight. Sometimes we don't have a choice and the sin of divorce is committed against us or it's the only option for peace in a bad situation.
But that's not the norm, many many marriages end simply because people stop trying.
Don't be a statistic.
Happy anniversary, Terrell. Thank you for being a fighter. I love you.