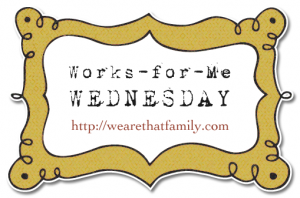 We don't have to do it all.
Here are 6 practical things you can leave off your list this holiday season.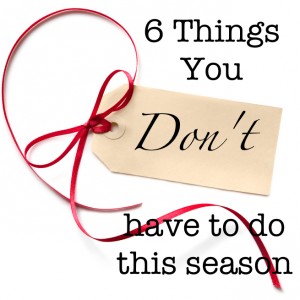 1. Send out Christmas cards– I was feeling stressed about this and I can't tell you how freeing it was to just let it go. I am not sending cards this season. Instead, I'm sharing a family picture on social media and that will have to be enough.
2. Go Into Debt-Just don't. It's not worth it. Cut back, give acts of service or time if you don't have the money. Be the gift. Don't keep paying and paying for the gifts all year long.
3. Spend a lot of time and money on gift wrap-We are talking about something that ends of up in the trash. Cheap paper works. And I'm not even doing bows this year. Scandalous. Let your kids help. Let go of perfection.
4. Continue to Consume-I made it a goal this year to stay out of the Christmas section of the stores. I'm using the decor and ornaments I have. Did you know Americans spend a whopping 6 billion dollars on Christmas decor and lights alone every year?
5. Buy Junk– Instead of buying gifts that won't last or don't mean a thing or one more iTunes or Starbucks gift cards, choose gifts that give back. I love these fair trade gift ideas (that have quick, free shipping for Amazon Prime members):
6. Feel Guilty. We are making a conscious effort to do less this season. I refuse to feel guilty about my hodgepodge tree with handprint ornaments. Our kids get 3 gifts from us and it is more than enough. Simplicity feels good, don't let guilt ruin it.