On the day after Christmas, we shoved three days worth of clothes into overnight bags for a trip to my in-law's farm. We had enjoyed every bit of Christmas Day and put off packing until the next day.
And then the morning of our trip, we overslept.
While my husband loaded five duffle bags and a box full of gifts for his side of the family into the back of the van, I barked the last few orders at my kids.
"Someone needs to feed the cat."
"Brush your teeth."
"Get your boots for the farm."
"Take this out to your Dad."
I locked the doors and opened the van door. I was met with some pretty nasty morning breath by one of my kids. "Did you not brush your teeth?" I asked in disbelief.
All three of my kids answered no and I about lost my mind. Because. This is not the first or tenth time. You know what I mean moms? I pointed them all back towards the house and ranted, "Why didn't you brush your teeth? This is not optional. You do this every day, do you hear me?" I yelled as I dug thru a bag for toothpaste.
My girls climbed back into the car after they brushed and I found my 11 year old son still looking for his toothbrush.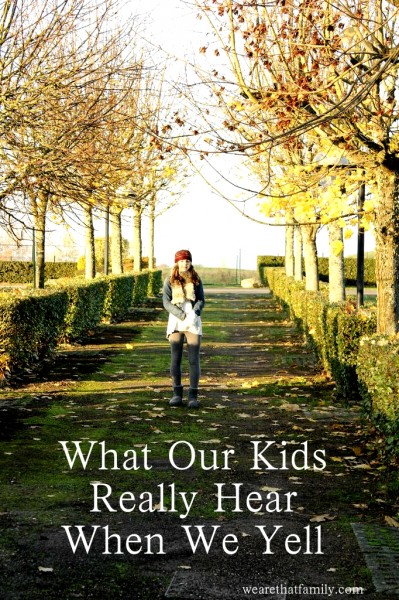 Oh, frustration, we meet again.
"Son, where is it? You should have already taken care of this…I am not going to like it if you have a cavity…." I huffed and puffed.
After he'd finally finished and was heading back out to the car with me following, he stopped and looked at me. "Mom, I know I should have brushed my teeth. I'm sorry. I forgot. We were hurrying… But why are you so angry?"
Do you ever have those parenting moments that feel like a kick in the gut? I stopped long enough to realize my heart was pounding and I was gripping the toothpaste with white knuckles.
While I thought I was lecturing about dentists and hygiene, responsibility and obedience, all my kids heard was an angry mother.
I hate that I yell. I try not to. But some days, I do.
I remember the first time I got angry with my oldest daughter. She was just a toddler when she totally defied me and ran towards the street. My anger sort of shocked me. I was scared to death. I don't know a mother who hasn't been angry at her kids for something. It sort of comes with the job.
But this was hardly a life-threatening situation, even for plaque fighters. I started thinking about why I was so angry and when I peeled back the layers, I realized I was fighting for control. I want things done my way. Or at least done. Most of the time, I lose my cool because I've lost control: I can't control my child's actions and I don't control my temper.
But I know there is a better to communicate with my kids and encourage them to make good choices. I struggle in this area. I'm not an expert, but  I truly believe it comes down to self-control.
Here are 5 things I'm trying to do when I feel like I'm about to lose my temper: 
Walk away for a couple of minutes. Take deep breaths. Think about this post 🙂
Ask God for self control often. It's a gift of the spirit and He loves to give gifts.
Pick my battles. A lot of the time, I'm irritated over messes and things that really don't matter.
Remember I'm the role model. My kids take cues from me.
Wait to discipline until my anger passes.
When I think about what my son was really hearing–anger instead of instruction, I'm reminded that lecturing and losing my cool isn't accomplishing anything. It only makes it worse. With God's help, I'm going to do better.
Do you struggle with this?