It was one of those early school mornings that started out with Cap'n Crunch cereal for breakfast. Just a regular Thursday, the same kind we have most every week. The details don't matter, but a simple request quickly escalated into an argument between parent and child.
It was over nothing, really. But then why did it hurt so much? Small things can still temporarily turn a home into chaos.
And while I packed lunches and wiped up spilled milk and tried not to cry over it, I wondered for the 100th time in the last month if I'm doing this parenting thing right.
My husband and I are constantly learning on our kids and just when we get the hang of one phase, a new stage leaves us reeling, wondering what just happened.We try to look past our children's behavior and see their heart. Why are they so angry right now? Why are they so defensive? What is really going on in their heart? 
Before my husband left for work, we talked about it for a minute.  "We have amazing kids. Some days though, I wonder how we should handle things. Maybe we need help or something?" I could hear his frustration because I felt it, too.
And with each new parenting phase, I wonder Is this normal? Are we normal? Are we doing this wrong? Do other parents deal with this kind of thing? I wish I could ask someone who's been here before.
I thought about digging into the parenting books on my shelves and googling for answers. I thought about the hard morning and whispered a prayer for help.
An hour later, my doorbell rang. It was a friend coming over to volunteer to send out packages for the Mercy Shop (in the building in our backyard). We started off just chatting and she said something about her four daughters, all but one grown and out of the house.
I sort of jokingly said that I could use a parenting mentor and then I did something I wasn't planning on:  I poured out my heart standing right there in my kitchen.
And she let me.
I told her how inadequate I felt, how one day I was mom of the year and the next day I was mom getting kicked in the rear. I told her how I hurt for my kids and how some days we hurt each other. I told her that my children were going to change the world, but some days they rocked mine.
I cried.
And then my friend said three words that were better than anything I could read in a parenting book written by a PHD. and more relevant than a counselor's couch or a magazine article.
"This is normal, Kristen," I breathed in deeply.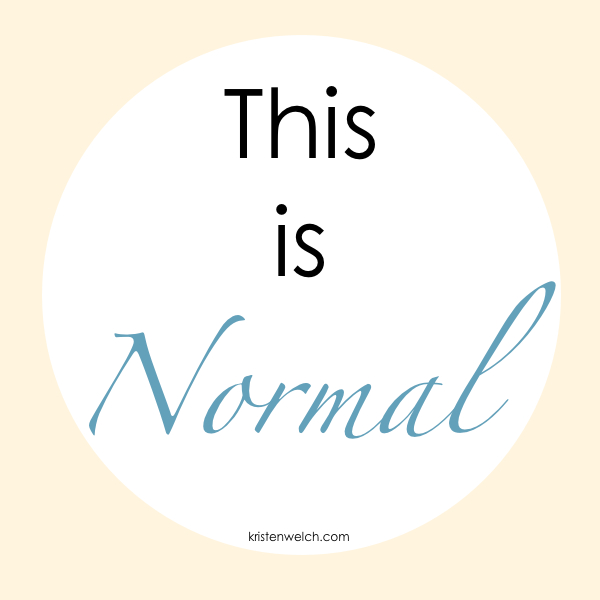 "You are normal to feel this way. Your kids are growing up and this struggle is normal, too.  I've been through it with my kids and it will get better. Keep loving them. Keep being consistent," she encouraged me. She told me her own crazy stories when her kids were at home and with each one, I felt more relieved. She told me how beautiful and strong her daughters were today and how they could laugh about the hard days. And with every word, I let my heart believe This is normal. We are normal. It's going to be okay.
And maybe my normal isn't really all that normal? What is normal anyway? But that's not really the point.  She could have easily said I have no idea what you're talking about or my kids never acted that way.
She could have made me feel worse by saying nothing at all.
Instead this older mom who was further down the road listened to my struggles and patted me on the arm and her simple response encouraged me not to give up. This is normal was another way of saying you're not alone. This is normal is saying this too shall pass. 
Because it really will.
And you know what? What you are facing today –those sleepless nights, that baby that wakes up every hour, the flailing tantrums, the angry foot-stamping, the smelly socks, the lost homework, the food battles, the bad attitudes, the drama, the really awful family fight you had yesterday on the Lord's Day (ahem) —that's all normal, too.
Even your child who refuses to wear clothes and runs down the street naked, likely normal (and if not, doesn't it make you feel better to think it might be just a phase? Or knowing that it will be okay and you're not alone?)
These three words can revolutionize motherhood.
When we see another mom struggling with something we've already endured, conquered, survived, we can change their day by whispering these three words in their ear. I said it to a lady at Target the other day and I watched her sigh at her mismatched child lying in the middle of the school supply aisle.
Because it's not a mother war we need to fight.
We don't need more competition; we need collaboration.
We can encourage and empower our sisters with the gift of our words. Look for a mom behind you in this parenting journey and instead of quietly judging her misbehaving children running through the store or staring at her head-banging toddler, or saying nothing at all–smile with her and let her know it's going to be okay.
Because this is normal.