The day after my husband and I got matching tattoos, we told our kids over breakfast.
And my straight-laced, rule-following, good-girl first born daughter burst into tears.
I could see the confusion etched on her face as she tried to fit the parents she knew loved God into her framework of right and wrong.
Right then and there, I knew we had made some mistakes.
And getting tattoos wasn't one of them.
Somewhere along the line in an effort to teach our kids right from wrong, good from bad, we had inadvertently taught them that people who love God don't get tattoos or don't (fill in the blank). We had made faith about a set of rules.
More than I want my kids to live by a set of do's and don'ts, I want them to follow Jesus and from that relationship, they will know what is right and what is wrong. Of course, we teach absolute truth to help guide their moral compass, but living life by strict black and white lines leads towards legalism, guilt and bondage.
And there's no freedom in that.
A couple of weeks ago, I wrote 9 Things We Should Get Rid Of To Help Our Kids. And crazy enough, it was read by 3 million people.
I think I hit a nerve.
But for everything we get rid of, we leave room to add something. I've been thinking about things we should add to our kids lives to cut out entitlement and produce well-rounded, grateful, God-loving children who put others first.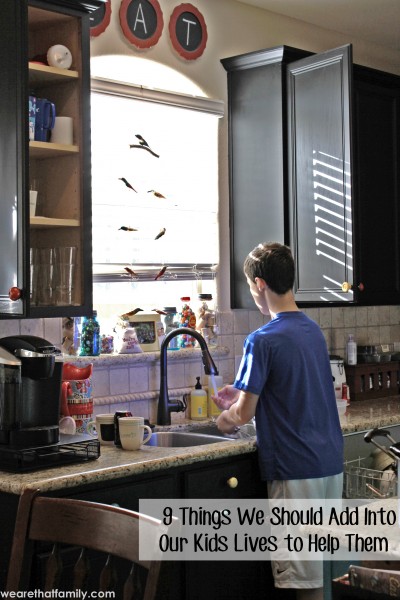 Here are 9 things we should add to their lives to help them:
The words "It's Okay" Because it is. And if it's not, we will figure out a way to get through whatever tough spot we find ourselves. Knowing that there is grace to learn and fail is half the journey. Because our kids are going to mess up. And so are we. And at the end of the day, we just need to know that it's going to be okay because love wins.
Hard work: "A little bit of hard work never hurt anyone" as the saying goes, but it's the lack of hard work that is crippling this generation. Kids who have never done physical, hard work are missing out on the pure exhilaration and satisfaction of completing something challenging. It's okay for them to sweat a little. We are one of the only cultures in the world who pays other people to do all our hard work. Save some for your kids. It's good for them!
Perspective: Without a doubt, this word more than any other, changed our home. When we pull back the curtains and expose our children to different ways people live or struggle too, we don't have to say much. And this can be done right in our own cities or across the globe. Exposing our kids to the needs of others will not only shift their perspective of what they think they need, it will also remind them of what they already have.
Absolute Truth: I believe there are absolute truths that should guide our lives. I find mine in the Bible. In a culture that is constantly redefining truth, we need a standard that does not change. If we don't teach our children absolute truth, they will be tossed around with every new wind that blows into their lives. Give them something to hold onto that does not change.
Compassion: When we choose to live and abide by absolute truth, we are going to meet people who don't. We  need to teach our kids tolerance for those who believe and live differently than we do. Love is more important than being right, even if we don't agree with other people's choices, especially then. We can stand for what we believe in without hating those who disagree with us.
Jobs: We have regular chores we all share around the house, but we also have occasional jobs that pay a bit of money. It's good for kids to understand the value of money because then they will begin to understand how hard you work for yours.
A Bank: Give your kids a piggy bank or bank account or envelope marked "savings" and another one labeled "giving." Start teaching them the value of saving for something they want and giving some of it away. It's a lesson that will shape their future.
Opportunity to serve: There is something beautiful that happens when children serve. Find tangible, practical ways to do something for someone else. Here's a few ideas. It will touch your family in ways you can't imagine.
Their Own Laundry Basket: When kids start reading in my house, they get their own laundry basket. If you do it all, they will let you. Don't. It takes a family to run your home, so put your family to work. It doesn't have to be perfect to be completed.
It's okay to add these things, go ahead and try it!