I get it.
I know just how hard it is to get dinner on the table and five people around it who are all going five different directions at five o'clock.
Mondays my oldest has church youth group and Tuesdays my son has after school honor band practice and Wednesdays we meet with other families for Bible Study and Thursdays, we have dental and eye appointments or –well, you get my point. Some days the window for all of us to be together is so small, it would be easier to just eat on the go or at least separately.
And other days when we have long moments to linger –that's when the big kids irritate each other until an argument erupts and the youngest is picky and cries in her dinner and we have a big fat mess spilled all over our good intentions.
I'm not saying it's easy. It's not.
But that doesn't mean we stop trying.
Because this isn't really about food.
It's not about dinner at all. It's about pursuing intentional, meaningful conversation that your children will never forget. It's about building relationships and communicating purpose and goals. It's about going deeper. It's about breaking Real Bread together.
It's about the best 10 minutes of your day.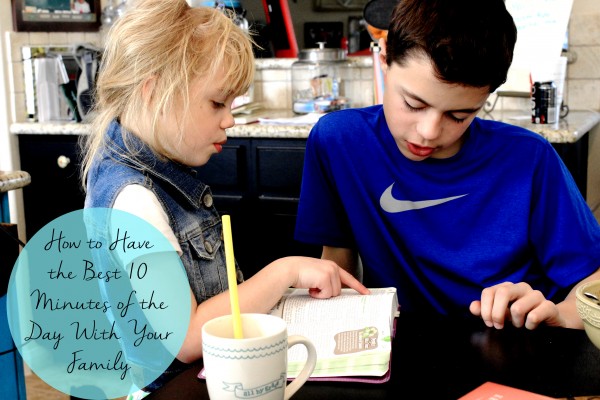 Practical Ideas to Make it Happen:
Plan a weekly crockpot meal so you aren't overwhelmed once you get everyone at the table.
Keep a large family calendar in the kitchen and make sure at least 3 nights a week are free (even if it's different every week.)
Keep a basket of Bibles near the table. Read them together.
Make the window of time interactive: My new ebook Saying Yes to God As a Family: 30 Lessons for the Table from Rhinestone Jesus was created just for this precious 10 minute window. Each short  lesson has a suggested Bible passage and 3 questions to promote interaction and deeper-thinking. (It's totally free right now when you buy my book -offer expires April 30).
Have fun. Painting our kitchen table with chalkboard paint was one of our best decisions to keep our kids around the table longer. Printing out paper placemats for drawing will also keep little hands busy (there are ones included in my ebook). Celebrate great nights together with ice cream!
Keep it short. Because kids.
Don't get discouraged. Some nights I want to go straight to bed after dinner because it's THAT BAD. But we do it all over again the next day. It's worth it. Don't give up! Make #sayyesinmymess your mantra.
When we persevere through the mess and stick a yes in it, we discover beautiful moments together, sometimes sandwiched between really bad ones. (That's life, huh?) If we choose to be intentional, we have the opportunity to connect on a deeper level. We uncover glorious tidbits that carry us through the hard days. We giggle and laugh. We hear about one another's day and learn more about each other.
We often find the best 10 minutes of our day when we look for them.