A friend of mine told me about a group of women, mothers with children, who were living in absolute poverty.
Their babies didn't have diapers. Their kids didn't have shoes. Their homes didn't have furniture. Their pantries didn't have food.
I've met women just like them, stood on their dirt floors and been offered the last plate of food in their house.
But these mothers in this story didn't live across the ocean, on the other side of the globe.
They live 49 miles from my front door.
They are refugees—removed from Bhutan, their country of birth, because of genocide against their race and placed in a refugee camp in Nepal, where they survived for 15 years, until more recently, when the United Nations relocated thousands of people again, to their new home in America.
They are my neighbors.
But many of these refugees have never been more than a mile away from the apartment complex that is now home. Once aid from the U.S. ended after 90 days, they found themselves in a foreign country, unable to communicate, trying to navigate a much different culture, living a minimum-wage existence where diapers and toilet paper, shampoo and soap, are a luxury they cannot afford. They didn't know there was a food bank within walking distance. But how would they manage toddlers and babies without a stroller or cart for food and who would help them fill out the paperwork to take what was needed?
As I listened to the story, I felt moved with compassion. Because this is my heart, my calling: To empower mothers with opportunity—for some it's an opportunity to give, for others it's opportunity to receive. I don't have all the answers, but I know we can help each other.
I couldn't help but wonder, How could I help? I immediately told myself, I'm doing enough. What could I possibly do? How much more could I add to my already full plate? We give a lot, how much more can we give?
But then I realized I was asking the wrong questions.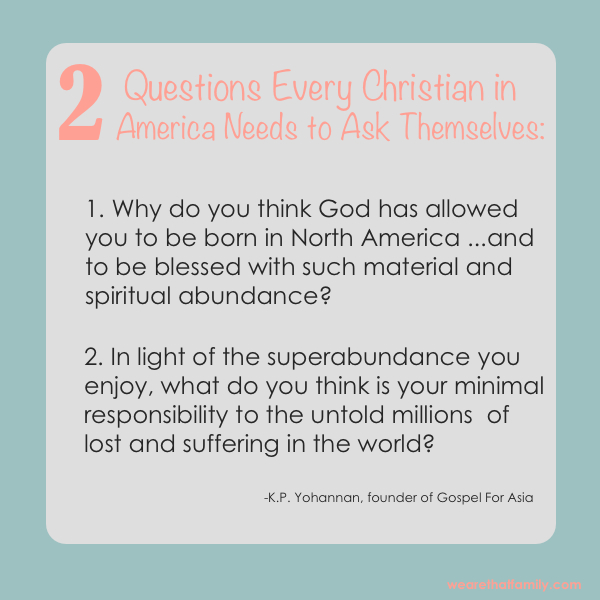 Go ahead. Ask yourself. It's not an accident. It's not luck of draw. There is a purpose. You have a purpose for living here and not there. What do you think it is?
I don't think it's a mathematical mistake that one-third of the world is rich enough to ease the burden of the other two-thirds who are desperately poor, living on less than $1 a day. It's not a curious coincidence that we are already sitting on the answer.
It's something we teach our children from the cradle. It's called sharing. We have more than enough, enough to share. It sounds like a match made in Heaven, huh? Like maybe it was God's plan all along to love others, and instead of accumulating the American Dream, there's the chance to give some of it away.
And I believe when God asks us what we did with our talents, our resources, our land-of-the-free, home-of-the-brave opportunity, we will be accountable for our answer.
Yes, we give already. But we have been given so much. We can give more, share more, do more. Not to prove we are good people or need a bigger list of good works. We do it because it's our purpose to glorify God. We do it because He first loved us and we love others. We do it because we have it to give. We do it because if we were reusing disposable diapers, we would want someone to share with us.
We do it because our houses and cars and pins on Pinterest are temporary.
Our stuff will not last, but people will.
When I asked myself these hard questions, I knew immediately what my answer had to be.
I started sharing this story with my friends and church community, many had the same answer. And with a pile of yeses, answers starting coming in. Moms started pulling out clothes and shoes, their excess to share. Dads moved furniture into garages to give away. Women began stockpiling diapers. Volunteers are offering ESL classes, a website is being built and a group of moms have started teaching knitting.
Once a week, for as long as I'm able, I'll be spending the day 49 miles from home,with my neighbors. 
Is there a right answer to those hard questions? I don't know.
But my family is starting by looking at what we have, thanking God for it and then sharing it with someone else.
I hope you will too.
Neighbors are a great place to start.