Sometimes I don't even know I need to hear the words.
Until he says them.
And then I'm like a sponge and I soak them up like my life depended on hearing them.
The whole family spent the entire Saturday knocking down dead trees, pulling up weeds and pulling down thorny vines tangled in our trees. We turned up the earth and planted tiny okra, pepper and tomato plants, already dreaming of summer. If it sounds exhausting, that's because it was, but it's my favorite kind of day. We were all working together and accomplishing something we all wanted: a garden.
We were dead tired and covered head-to-toe in filth, dirt in our hair and under our nails. I walked in the kitchen and that's when I remembered my forgotten trip to the grocery store. I sighed because I had to go to the store and I couldn't wait another hour.
I scrubbed my hands and put a clean shirt over my-not-so-clean body and my oldest and I headed out. I left my husband and other kids chopping wood to carry off.
I still had groceries to get and unpack, dinner to start, laundry to turn and a half dozen other tasks that keep our family of five running all week long.
The kids helped me unload food into the pantry and I hurried dinner along. It was nearly dark as we sat down to eat, and I stifled a yawn. And that's when my husband leaned over and looked at me long and hard and whispered the words: thank you.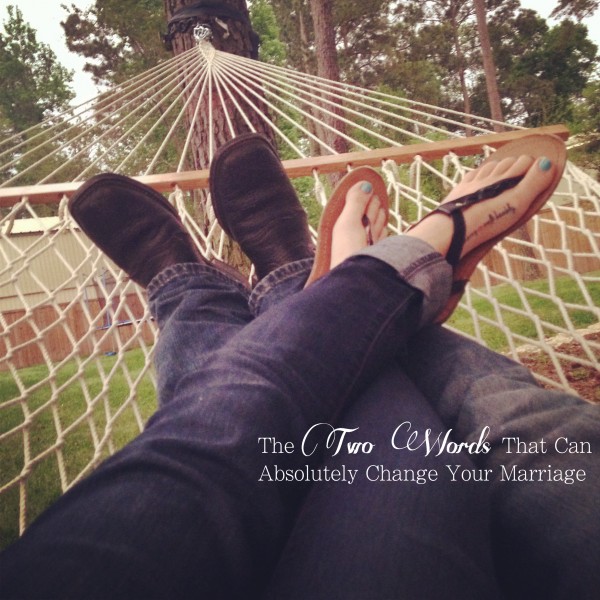 And I patted his arm, his face ringed with the weariness of hard physical work and I said them back. Thank you.
Because sometimes? We just need to hear the words. Deep down we know our family is grateful–our kids appreciate the little things, especially when we don't do them and our husbands and wives see more than we think they do.
But to hear the audible words–some days it's the jet fuel we need to keep going.
And the words aren't really dependent upon what we do–because sometimes dinner is a flop and the laundry spills over and the kids meltdown and husbands run late and life has a way of being perfectly imperfect.
But when you overhear him tell your daughter she looks beautiful on Sunday morning or watch him put his briefcase down, loosen his tie and read Junie B. Jones for the millionth time — stop — and thank him.
When you realize she turned off the alarm so you could sleep a few more minutes or remembered your dry cleaning for that important business meeting and changed the cat litter because she knows it's the chore you hate the most–stop—and thank her.
Sometimes the very thing you need to hear the most is what you need to say to someone else.
When she's impatient. When he's angry. When she's tired. When he's busy. When she's down. When he's not…
When she's up all night with the baby and you have to step over baskets of unfolded laundry, when you can see the stress of his job weighing him down–these are the messy moments when we feel invisible, unappreciated, overlooked.
These are the moments in our marriages that need a thank you the most.
Because they aren't just words. Thank you sends a lifeline. It says:
I see what you do all day long.
It matters.
It's important.
You matter.
You're important.
I don't see the mess.
I see your yes in it.
————————————————————–
Click to read more of our marriage story….