You don't always know you're asleep—until you wake up.
And then you see the world in a completely new way.
Two years after that first life-changing trip to Kenya, I brought Maureen, Compassion-sponsored-child-turned- fearless-Kenyan-leader who rescues girls from unthinkable situations to America for strategic planning and fundraising.
I will never forget the moment we pulled into the driveway of my nice two-story brick house and I saw my home from her perspective.
I will never forget the first question she asked as the garage door opened and she got a first look at my life in America.
"Oh, do you also sell bikes?" she asked innocently after seeing the five bikes hanging from my garage for my family of five.
Y'all.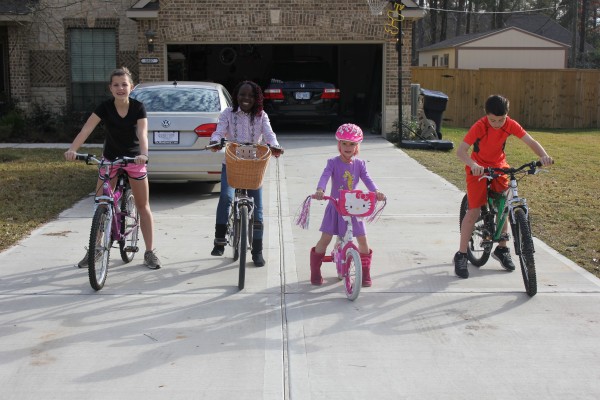 That one question has haunted me.
Because sometimes we don't always see how much we have until someone who doesn't have as much sees into our lives.
Do we sell bicycles? Because there isn't another reason why we would HAVE SO MANY if not. Because in her country one bike is a luxury. One bike is shared by dozens. Five bikes is a bike store.
But I think we all know this isn't really about bikes. It's not even about wealth and the world's poverty.
It's about waking up from a dream that is never satisfied. About being grateful for what we have and about sharing some of it with others.
Hey.
I know it's not easy to talk about waking up from the American Dream. I know reading this might be uncomfortable. I understand it's more fun to read new recipes or how to's on rearranging furniture or encouraging mom words.
I get that. I know clicking here requires something of you. I know buying my book about trading in safe comfortable faith for something more authentic and dangerous will cost you more than the $12 price tag.
I know because waking up has been hard for me. I still struggle.
I like the idea of the . A·mer·i·can dream
1.  the idea that everyone in the United States has the chance to achieve success and prosperity
What could possibly be wrong with wanting success and prosperity? We all deserve it, right? We are entitled to it.
No.
It doesn't take more than a long look at how 3/4 of the world lives to realize, we are not the norm and the only real difference between the poorest of the poor and the guy driving the $100,000 car is where they were born.
"I think with the way we have unprecedented material blessing, with the way we have a culture built on self, self-esteem, self-confidence. All of these things we begin to twist the gospel into something that it is not. We make it look like us and fit into our lifestyle instead of adjusting our lifestyle to the gospel. In the process we make following Jesus more American than it is biblical. As a result there seems to be a major disconnect between what it means to follow Christ in the first century and what it means to follow Christ in our definition in the 21st century," David Platt.
To be honest, for every yes I've said, there have been at least a hundred reasons to say no.
It is too risky.
What will people think?
I like living this way.
I deserve nice things.
I'll give to someone in need as soon as I finish building my dream home.
"Believing in the Jesus of the Bible makes life risky on a lot of levels because it is absolute surrender of every decision we make, every dollar we spend, our lives belong to another. And so that is relinquishing control in a culture that prioritizes control and doing what you need to do in order to advance yourself.  The call of Christ is to deny ourselves and to let go of our lives. To relinquish control of our lives, to surrender everything we are, everything that we do, our direction our safety our security is no longer found in the things of this world. It is found in Christ," David Platt.
So, how do we wake up from the American Dream? I often feel myself being lulled back to sleep by it.
We stop comparing ourselves to other people. I often don't know I want something until I see someone else enjoying it. If I'm going to compare myself to someone who has something I don't, then I also must compare myself to someone who has less than I have.
We commit to doing what God tells us to–when He says it. That prompting to give isn't from you. It goes against our nature to take care of someone else's needs before meeting our wants.
We become wildly generous. Give your life away. It's easy to give when we have a lot. But when we give and it costs us something–that is true generosity. I'll say it again: There is nothing more gratifying than giving someone something they need instead of buying something we want.
A generous person is always ready to spontaneously give to those in need. It's usually inconvenient and unplanned. It will probably cost us comfort, even pride. It won't be easy or bring us fame.

This is Christianity.
It's easier to keep sleeping. Living different than the world will cost us something.
But my life is proof that waking up is an open door to living wide awake. And that's so much better than a dream.