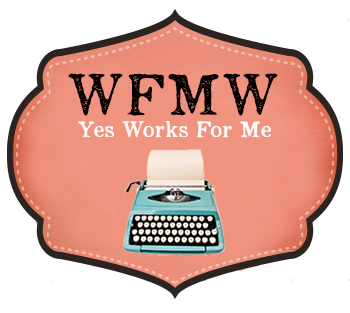 I'm happy to welcome this week's guest post from Kristin for my new Wednesday series 
Yes, Works For Me!
 Please welcome her and be encouraged by her yes to God and continue to link up what works for you.
My only daughter is a bit of a hoarder.
She is three and fiercely independent, and apparently has a problem sharing her things. She will makes piles with all of her favorite toys in the middle of her room, add a bag of chips and her new beach towel and she is set and her room is off limits!
I will "encourage" her to go and clean her room. And since we are all friends here and I am sharing a bit of my reality…she doesn't listen to a word that I say. She instead will "encourage" me to clean it for her. Ahem – it is a time of training for both of us.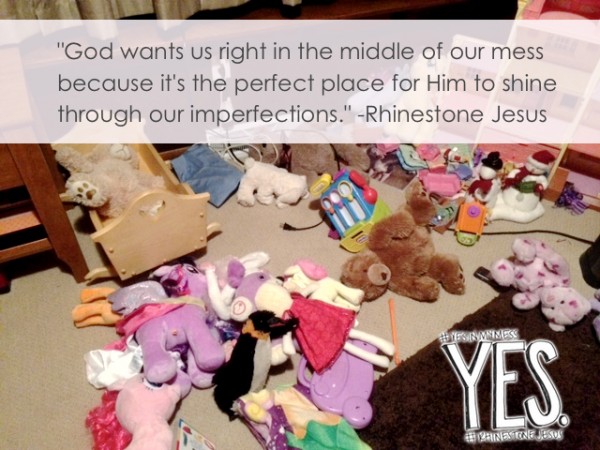 She is holding tightly to those things that she thinks she can control, testing boundaries and seeking to find her place in our family.
And I realize that I am no different in my Father/Daughter relationship with God.
I did the whole "accepted Jesus in my heart" prayer when I was a pre-teen. I heard a woman's story of redemption, and her call to pray a simple prayer. I said the prayer with expectation but didn't feel a change.
I figured I must have done it wrong. So each time I had the opportunity to say that prayer, I did…I assumed that at some point it would "take."
My teenage and early adult years weren't easy – whose are really?! But I didn't have a relationship with God because I didn't feel worthy. My life was always such a mess.
God wants us right in the middle of our mess because it's the perfect place for Him to shine through our imperfections.
I walked through life knowing I was a hypocrite.
So I worked really hard at trying to "get it together". Instead of embracing the failures as opportunities for growth and thanking God for the grace He gives me, I tried to just be better, do better, act better…because maybe then I would earn the right to be one of His.
That merry-go-round is exhausting isn't it?!
I had to come to a place of brokenness, where I knew that I wasn't capable and I had a just the littlest bit of hope that maybe God was.
The most breathtaking moments often come when we discover we have nothing left, but everything we need. This deep brokenness feels like the end, but it's actually a new beginning
Discovering a relationship with God has been life changing.
Saying Yes to Him even when I still make mistakes, even when life doesn't look like I think it should, has given me such a deep understanding of grace.
I too am learning and growing and testing the boundaries of my faith. I have found that as I honestly seek God that He takes my broken, my mess, and He makes it beautiful. And that my friends, has been worth the journey!
Saying yes isn't really about doing it all. It's about saying yes right where you are.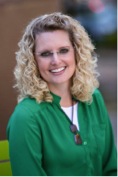 Kristin Anne Smith is a wife and mother, but most importantly, a daughter of the King. Redeemed by His Grace and so very grateful for it. Through the past 16 years she has walked some hard roads. But despite her choices and at times lack of faith – God loved her anyways. Kristin blogs at The Riches of His Love  and is the Managing Editor / Contributing Writer at God-sized Dreams.