I'm happy to welcome my first guest post for my new Wednesday series 
Yes, Works For Me!
 Please welcome her and be encouraged by her yes to God and continue to link up what works for you.
It's my surroundings that do it to me.
Every. Single. Time.
After a long day spent in the trenches, and a quick glance in any direction, it's easy to understand how overwhelmed I feel. Whether it's the laundry piles stacked high or the massive amounts of toys strewn across the floor of my home, the disorder that encircles me? It's becoming too much. And it's in these said moments I speak of where my spirit deflates, my whole mood darkens, and the last place I want to be is home. It's in these instances where I'm so focused on the clutter before me, I can't see past it. I can't see anything except my mess.
So, I shut my eyes and tune it out. I attempt to disregard its presence. I close the doors within my home in order to block it from sight.
Because it's easier to say "no" instead of "yes."
It's easier to grow discouraged by the clutter rather than embrace it–the hoards of crayons that were never put away, the dirty dishes that keep piling up, the beds that remain unkempt. It's frustrating, friends. It's completely overwhelming. It's constant.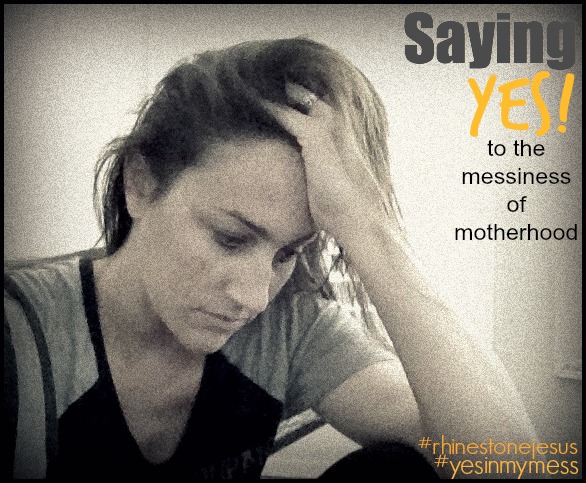 It has this worn-out mama ready to run for the front door, and retreat to the hills. It finds me desiring to be anywhere else but here…anywhere else but stuck in my mess.
However, maybe it's time to take a different approach–to take that ever-present and oh-so-consistent chaos and alter our way of thinking towards it. Maybe it's time we start accepting it instead.
Yes, you heard me right.
If we just took a few deep breaths and prayed through the frustration–past the commotion…if we asked God to meet us right in the middle of all that confusion and chaos. That's right–in the midst of the laundry, the dishes, and the half-eaten candy wrappers left on the floor. In the minivan that's corroded with spilled sodas and Happy Meal toys—and in the yard where chewed-up pool toys and deflated balls reside, sprawled across the lawn. What if we invited God into each one of these instances—if we asked for His help in managing such trials?
As for those visions we have of running from the mayhem, what if they found us running to Him instead…for all of it? The good, the not-so-good, and even the downright messy?
What if the rolling of our eyes ceased, the furrowing of our brow halted, and the frown that seems like a permanent fixture upon our faces, slanted upward instead?
What if you and I figured out how to say "yes" to our mess?
With His help, I believe we can, sisters. I believe we can trade in the chaos for contentment, the problems for peace, and the discouragement for delight. I believe we can change our way of thinking by seeking the blessings to be found.
And I believe it's time.
Remember, mamas:
Do not be anxious about anything, but in everything by prayer and supplication with thanksgiving let your requests be made known to God. And the peace of God, which surpasses all understanding, will guard your hearts and your minds in Christ Jesus.
-Phillipians 4:6-7
Tell me about your mess. Tell me the hardest part in dealing with it? And then tell me the areas in your life where you can say "yes" more…
Author Bio: Jenny Lee Sulpizio is a wife and mother of three who enjoys writing about anything and everything under the sun, but especially loves to instruct, motivate, and guide other moms with practical advice and tips. Jenny is a contributing writer for The MOB Society, and The MOM Initiative, and is the author of the recently released guide for all mamas titled, "Confessions of a Wonder Woman Wannabe: On a Mission to Save Sanity, One Mom at a Time." To find out more about Jenny or to follow her blog, visit www.jennyleesulpizio.com.
Yes, works for me!