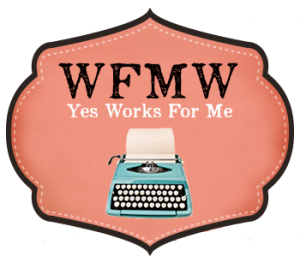 I'm happy to welcome this week's guest post from Kelli for my Wednesday series 
Yes, Works For Me!
 Please welcome her and be encouraged by her yes to God and continue to link up what works for you.
He toddled up to me, babbling in a language that was equal parts baffling and poetic. Scooting backward into my lap, the small boy with a mop of blonde hair spoke as though we were lifelong friends, his animated story inducing hearty laughter from the caretakers in our presence.
I was fifteen, on my first foreign mission trip to Minsk, Belarus, and I was enamored with this foreign land. I left that trip with the little boy from the orphanage seared permanently on my heart.
Twelve months later, I landed in Kiev, Ukraine on a second mission trip, and I felt like I was coming home. I would return a third time to Kiev before leaving for college where I minored in the Russian language, eventually spending four months in Kiev exploring, learning, and further cultivating a love for the country and culture.
That's where my "Yes" began.
When my husband and I married, my past experiences were so engrained in my very being that it seemed natural to assume our story would include that place. I decided early on that the obvious connection between my life as a married woman in America, and my deep love for Slavic culture would intersect in a Russian adoption.
In May, 2012, my husband finally felt ready to say "Yes", if for no other reason, he said, than the Lord had not given him the freedom to say no. Sometimes, the next steps are obvious. And sometimes, we just have to say yes in blind faith.
Fourteen years after I first felt this twinge of hope, the dream became a reality, and it never, ever occurred to me that we wouldn't succeed. Though I knew Russian adoptions to be tenuous, there was never a part of me that thought ours wouldn't be successful. It seemed the Lord was preparing us for this the whole time.
Until the Russian government shut down adoptions in the middle of our process, leaving me doubtful of God's goodness and devastated at the loss of a dream. It took me more than a year to piece back together my fragile faith. We looked into adopting from every other country available, but the Lord would not give my heart the freedom to leave Russia and Ukraine.
That's when my "Yes" changed.
I abandoned the "Yes" that made sense to me, and I began praying that the Lord would lead us to what He had planned. In so doing, our "Yes" has become much larger than we anticipated. We've learned more about the orphan crisis in Ukraine, and our hearts have been broken for the children aging out of orphanages at 16, and forced to live on the streets.
60% of the girls turn to prostitution. 70% of young boys turn to drugs and alcohol. And now that we know, how can we not respond?
The thing about saying "Yes" is that the outcome is never a guarantee. So much of Kristen's story in Rhinestone Jesus resonated with me, but this quote in particular has rolled through my heart with a steady beat:
Kristen writes, "If I have learned anything in this journey, it's this: the good makes the hard worth it. But getting to the good part requires making it through the valley of the hard."
We never would have headed down our current path of ministering to aged out Ukrainian orphans if we hadn't experienced the devastation of our terminated adoption. We had to say "Yes" to the first path to find the second.
It seemed the Lord was preparing us for this the whole time.
Kelli Stuart is a wife, a mother, a writer, and the driver of a smokin' hot minivan. Kelli can be found numerous places online including Compassion International, The MOB Society, Extraordinary Mommy, and Mercy Found Ministries. Kelli shares her heart, her humor, and her quest for inspiration at Kelli Stuart.com.