I'm happy to welcome this week's guest post from Andrea for my Wednesday series 
Yes, Works For Me!
 Please welcome her and be encouraged by her yes to God and continue to link up what works for you.
God has given each of us gifts, passions and dreams that are for His glory.
These desires and passions are all to advance the kingdom.
He wants to use each of us to do amazing things.
What you do everyday is good. You are doing the faithful work He has called you to.
He has great plans for your life. He has great vision and purpose for you.
I am writing these words and I really believe them in my heart.
But…I get stuck on a few details.
I am a mess.
My life is messy and not perfect.
At. All.
How can I say yes to God size dreams when I can't even control the family laundry?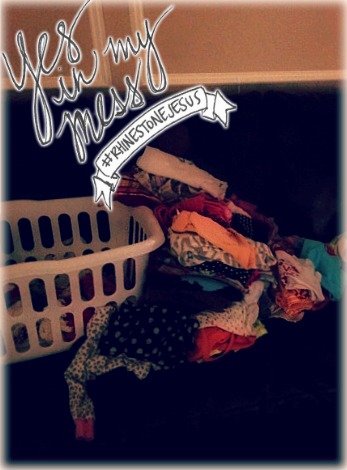 How can I say yes to the desires and stirrings in my soul when I stink at meal planning and when my kids eat more cereal and mac&cheese than I care to admit?
How can I say yes to the dreams that are tearing me apart and scare the living daylights in me; the dreams that bring me to my knees and make me tremble?
How do I step outside of my everyday life and walk in the dreams and visions He has called me to?
Am I so bold to say, "Lord, I can't seem to wash my kids' underwear, but here am I, send me?"
Am I that audacious?
No. I'm not.
It's easier for me to cower in my mess and say, "Lord, I am not qualified. I am not perfect. I can't even match socks correctly. I forget to put a timer on meals and burn them often. I call going to the library 'school' more than I probably should and then I don't return books and rack up embarrassing fines."
Yet God says, "You think I don't know you're crazy? You think I don't see your mess?
I see it. I'm calling you anyways. I give you dreams and visions despite the mess.
If you give the mess and the crazy to me…I will make it beautiful and fruitful."
Because, ya'll…He is really good at taking nothing and making something.
He is really good at taking cowards and making them brave.
He is really good at taking the meaningless, everyday mess and producing an overflow of greatness.
He is really good at taking the unqualified and making them purposeful and outstanding.
Because ya'll…He made Eve from a rib and her womb was fruitful.
He made Esther bravely step up and she saved a nation.
He made Ruth do the work of gleaning and from her womb came the line of the Savior.
He made Peter, an unqualified, mess of a fisherman speak words of truth that saved 3000 people in ONE day.
God is worth the mess of life.
He is worth the crazy, beautiful, big dreams of life.
He desires for you to say yes.
Say yes, because what God is leading you to is worth everything.
Say yes, because God is worth it.
Say YES.
Bio:
Andrea Portilla has been married to her high school sweetheart for 11 years and she is also a mom and home educator to three amazing kids. Andrea can be found online at 5 Minutes for Faith and will soon be contributing to the new online magazine, Faith, Truth and Love. Andrea writes about her passions, faith and imperfections at BeautifulCraziness and her greatest desire is to inspire women to walk faithfully in what God has called them to within in their own beautiful, crazy lives.