I'm happy to welcome this week's guest post from Michelle for my Wednesday series 
Yes, Works For Me!
 Please welcome her and be encouraged by her yes to God and continue to link up what works for you.
I remember gazing at the check on my dining room table, my cursive signature tidy in the lower right corner. The night before, my husband Brad and I had decided to sponsor the education of two teenaged Tanzanian girls. I'd dutifully written out the check the next morning, but I stopped just short of sliding the blue slip into an envelope.
I didn't want to mail the money.
Brad and I had supported local charities sporadically for years – ten dollars for hunger, twenty dollars for new sneakers, an unwrapped Christmas gift, a few checks here and there – but we'd never contributed to an initiative that entailed such a significant monetary commitment.
But as I sat at the dining room table with the pen in my hand, I realized the money itself wasn't the problem. The hard truth was that I simply didn't want to spend it on something that seemed so fruitless.  What was the point? I reasoned. Who were these girls, and how would our help make any difference at all? It felt futile, like the tiniest drop
That was five years ago. Today photographs of Jackline and Neema hang on our stainless steel fridge. They are women now, wise eyes and huge smiles replacing gawky school-girlishness.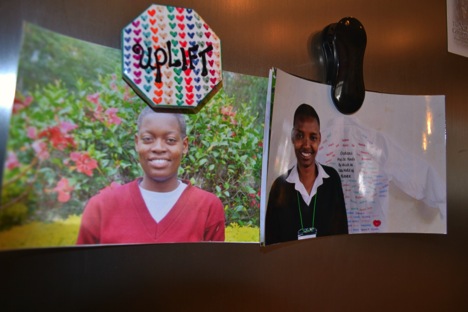 Last week I received an exuberant email from Jackline. She's enrolled at the university, studying to become a professor. In her note she included a list of final grades from her first semester at college, and I smiled big like a beaming mother when I saw all the As and Bs.
Neema is finishing her last year of high school and hoping she'll do well enough on the national examinations to gain entrance into the university. She always begins her letters, "Dear my lovely parents…" neatly scripted on stationary she's illustrated by hand.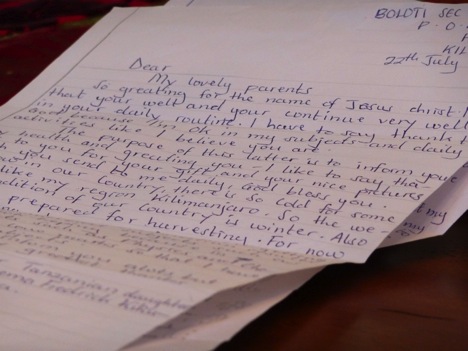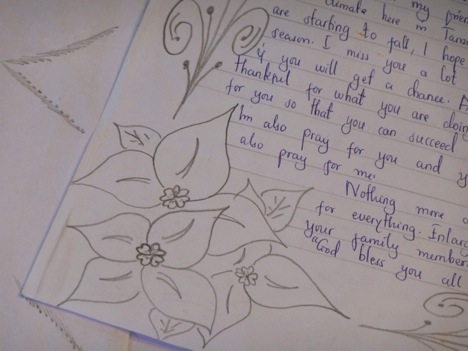 I admit, even after five years, I still struggle to write letters to Neema and Jackline. Sometimes the gulf between Nebraska and Africa seems to yawn so wide, I can barely string together a single paragraph. What to write to those who have so little?
Should I mention we recently returned from palm-lined beaches?
Should I say we are taking our young son and his five friends bowling for his birthday party?
I can't possibly admit we repainted our older son's bedroom, bought him new curtains and a new comforter to replace the ones that were not very worn.
I feel guilty. We have so much and they so little. It seems wrong, backwards and upside-down, that the ones who have virtually nothing pray for the ones who have so much. And truthfully, our handful of letters and once-a-year check seem not nearly enough.
"It's common to have the desire to do something but end up doing nothing because we don't know where to start," writes Kristen Welch in Rhinestone Jesus. "We often don't do anything because we think our contribution won't be enough."
She's right. Most days it doesn't feel like nearly enough. Two young women in a country of more than 40 million people, 60 percent of whom live on less than $2 a day? How does that make a difference at all? How can our checks, our letters, possibly matter?
Except they do. Even when I don't quite know what to say, those letters and those checks matter for two women with wise eyes and broad smiles. Two women who live 8,750 miles away, in a country stricken with poverty. Two women named Jackline and Neema.
Our efforts are small, as are our contributions. They barely register a blip. But those smiles beaming at me from our fridge tell me something important: our yes is enough.
Bio: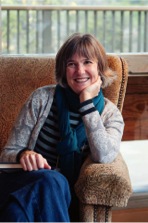 A Massachusetts native, Michelle DeRusha moved to Nebraska in 2001, where she discovered the Great Plains, grasshoppers the size of Cornish hens … and God. She is the author of Spiritual Misfit: A Memoir of Uneasy Faith and 50 Women Every Christian Should Know: Learning from Heroines of the Faith (releasing September 16, 2014).  Michelle writes about finding and keeping faith in the everyday at MichelleDeRusha.com. She's mom to two bug-loving boys, Noah and Rowan, and is married to Brad, an English professor who reads Moby Dick for fun.