I see the anger before I feel it. Her fists clench at her side and her dark eyes flash.
I brace myself because I know what's coming.
Some times it happens when I say the word no or when I say you can't.
Her passion erupts and she fights hard for what she wants.
She's not the only one.
I take deep breaths and try to remain calm, controlled.
But she pushes. And I push back.
Words and attitude can be daggers to a heart.
Hers and mine.
I take the bait.
We battle.
I have two daughters, both strong-willed. Both like me.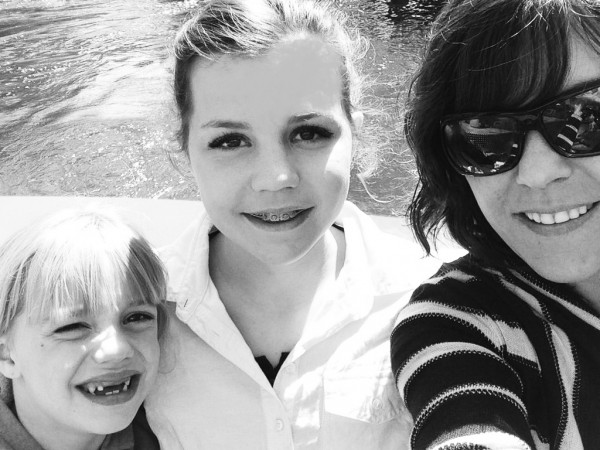 Wavy hair. Olive skin. Dark brown eyes. Same nose. We even share identical birthmarks.
But our similarities run much deeper. We are short-tempered. Passionate. We want life to be fair and just. We are fighters. We want our way. We long for control.
And in those strong-willed moments–when daughters demand their way–their strength amplifies my weakness.
Some days we laugh and push through the tough moments. Other days are filled with harsh words and regret.
And I know as I certain as I stand in my kitchen arguing with one of my strong-willed daughters, there will be no winners.
In moments like these when we fight for what we want, we both lose.
When we put our will above all else. we leave a wake of casualties.
Battle-weary, we find a place of peace and talk through the damage of our words. We say our "I'm sorry's" and we end up stronger in our weakness. I am not her captain or her companion, I am her cavalier, her company and we are on the same side. We are not enemies. It is not my way or hers.
I'm not a teacher on this strong-willed dance floor. I'm a student. Here's what I'm learning:
Not everything is a battle–but it can be if we make it one. If we are in constant battle about the same things–messy rooms, laundry and attitude, we might win a few, but it might cost us a relationship. Leave the small things, small. That's not to say we let them have their way all the time, instead we focus on what really matters.
Not everything is personal–but it can be if we take offense. That eye roll or audible sigh–it's normal. That doesn't make it right or less frustrating. But most words flung are coming from a hurt or misunderstood place. If we choose to be offended by every word or action, we are choosing something much bigger. Look past the words and get to the heart of the hurt.
Not everything can be won–and if we try to win it all, we will ultimately lose. We are raising, unique, one-of-a-kind girls who will surprise and satisfy us. We have to step back and let them learn and grow and mess up. Most of all, we have to help them find the beauty in every place, especially the hard ones.
Not everything is eternal–but everything is significant. Things in her world might seem small to us. And they probably are–that zit, that boy, that mean girl, that first B on her report card. But if we make what's important to her insignificant to us, we wound.
Not everything is understood and that's why listening is the best gift. We may not always understand the drama, the emotion, the passion over the trivial. And that's okay. We can offer them what they really want and need–it's not a fix to their problem, it's a listening ear. Some times the best thing we can do is close our mouth and let them talk.
I'm raising strong-willed daughters. And I'm discovering their passion and determination are the very things that carry them through their toughest times. I'm watching them deflect the world, stand against cultural norms and leave a mark on those they impact. They shine.
And more than ever, I need to remember what the fight is really about.