I'm happy to welcome this week's guest post from Kari for my Wednesday series 
Yes, Works For Me!
 Please welcome her and be encouraged by her yes to God and continue to link up what works for you.
Twenty-two years ago, I didn't have a clue how to say yes.
For me, life was all about maintaining a well-organized home, driving a new minivan, enjoying the perks of being a stay-at-home mom, vacationing to beautiful places, and trying my best to make my children happy all. of. the. time. I loved providing them with the pleasures of a comfortable life with the best toys, activities, and experiences.
But, if you peeled back the layers you would have found a mom who was self-centered, overly busy, stressed, and unhappy. I was messy on the inside. I wasn't feeling satisfied. I didn't feel adequate in any area of my life. But, I was too embarrassed to admit I was a mess, even to myself.
During this season, I delivered my son at 21 weeks gestation, who took his last breath in my arms and with his death, I lost all the hopes and dreams I had for him and my family. I found myself depressed without a purpose in my life. I was lost in my sorrow. I felt like I was failing miserably as a wife and mom.
"God uses our brokenness for His purpose. What He puts back together heals stronger." #RhinestoneJesus
As God started healing my heart, He started to challenge me in ways I had never experienced before. To my surprise, He put in my heart a desire to adopt. My focus started to shift from people, places, and things to surrendering my heart. As we began to say yes to God as a couple, our dreams began to change for our family. In 2008, we adopted the most beautiful baby girl, Zoie Senait from Ethiopia.
However, it was unnerving feeling unsatisfied living the "yuppy" lifestyle. How was this possible? We had already shared 16 comfortable years in our marriage, but God started to convict us to fully surrender to Him.
It was a tough battle and I fought it every step of the way. I questioned God. We already adopted our daughter from Ethiopia…what more could you possibly want from us? (What a dangerously stupid thing to ask God)
"Hardships in life shape us, struggles define us, and both ultimately prepare us for the future God is calling us to." Kristen Welch
God was faithful and He started prying every single one of my fingers off the stuff I was clinging so tightly to. But, I still wasn't willing to say yes with full abandonment.
I didn't want to let go of my home.
I didn't want to let go of my comfort.
I didn't want to let go of my husband's salary.
I didn't want to let go of my stuff.
When you surrender fully to God's calling, you must be willing to give up your lifestyle, your reputation, your everything. When you give God control, He must take ALL of it. You have to give Him your mess.
As my hubby and I started sayings yes, God started us off on a new adventure. We spent the next 5 years leading mission teams to love big on orphans. We built up our ministries, Simply Love and Man Up and Go. Our passion was living out-loud James 1:27. But, He wanted more from us.
If God asks you to let it go– do it! Be obedient. Do good. In 1 Timothy 6:18 Jesus requires us to be rich in good works, be generous, and ready to serve.
We said yes again, and sold our home, quit our day job, sold our stuff, and started on a radical God-sized adventure that transformed our family forever.
We lived in three 3rd world countries for 15 months. First, we served in Addis Ababa, Ethiopia serving a slum community and leper colony. Next, we spent 2 months in rural Haiti living in an orphanage and sharing the gospel to the lost and caring for the sick. Finally, we headed to Nicaragua hosting mission teams, loving big at a re-nutritional orphanage, and building homes in the poorest communities.
Honestly, our time living abroad were some of the best days and some of the messiest days of my life. I felt vulnerable at every turn.
We are now back living in the states, and my husband has a new job with a bigger platform than we could have ever imagined to reach men, women, and families world-wide to live for Jesus. Together, we are sharing our story to encourage others to serve the Great Commission, be lovers of Jesus, and loving people.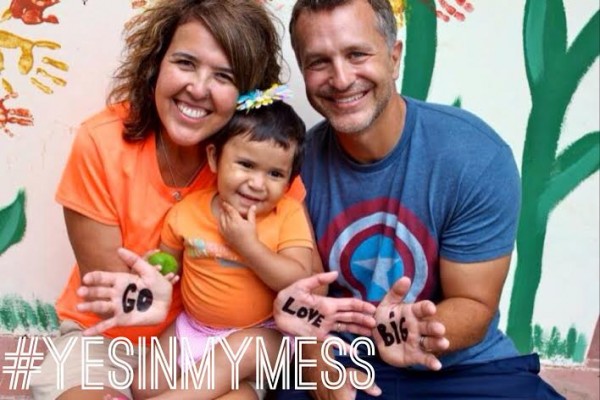 So, how do you say yes to a God-sized dream?
Here Are 7 Ways to Say Yes…Today:
Pray Through: Pray like your whole life depends on it. Start asking God to transform your heart to be a lover of Him and prepare for God to change everything, your dreams, hopes, desires, and passions. If you ask, He will be faithful. There is nothing He won't provide for you to live the purpose He created for your life. Remember, prayer is also listening to the Holy Spirit's leading. You don't want to head off in the wrong direction.
Commit to Fasting: This is one of the most important things you can do to prepare you soul, mind, and heart to say yes. When you take the time to give up something (like food) and focus with prayer and fasting, God WILL reveal his power and miracles to you.
Make Sacrifices: What are you willing to give up? It doesn't mean you have to sell your home and give away all your stuff, but it does mean you will make sacrifices to say yes. It does mean you will live obediently, no matter what the cost may be. Watch out! When you are willing to give everything up to serve and love Him, God will change everything.
Take Action: Real action takes movement and when it's time to move forward, DO IT AFRAID and move! If we aren't willing to jump in the adventure with both feet, we miss out on the plans He sets in motion for us. If we move too slow, we find ourselves slacking back into old habits, old fears, and old living.
Remember His Grace: Here's the thing, we will always be messy. We are sinful by nature and will constantly, consistently, and miserably fail. Grace is the gift of favor and love from Jesus because we don't deserve His love. We don't deserve His undeserving redemption. I don't know about you, but that takes the pressure off all our big fat failures.
Remember the Battle: Satan wants to discourage us, make us feel like failures. He kills our dreams, steals our ambitions, and destroys our spirits. It's not God that's not putting us back in the game, it's us allowing satan to keep us out of the game through what he does in our minds, filling our thoughts with despair, guilt, shame, loneliness, and failure. Take every thought captive! (2 Corinthians 10:5)
Make Jesus Famous: Give Him full control of your life. Say YES right now– today to follow Him the rest of your life. Full surrender. Complete obedience. Every adventure will be different. Look different. But, it will be a God-sized adventure. Nothing is better than loving and knowing Jesus.
Sisters, our "stuff" was never designed to make us happy. Our joy does not come from materialistic things. True joy comes from saying YES to serving and loving and caring and blessing and helping others with your gifts, talents, and passions.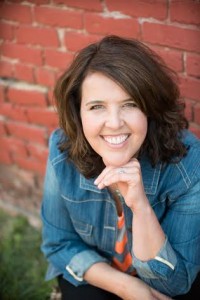 Bio: Kari Gibson is the proud daughter of marriage and parenting guru, Gary Smalley. She learned at an early age how to dream big and pray bold and love people. She is the author of four children's books, Mookie's Secret, The Very Scary Cave, Mookie and the Too-Proud Peacock, and Mookie the Berry Bandit.
She has spent the past 6 years leading mission teams to Haiti, Uganda, and Ethiopia mobilizing others to go and love and serve big. She married her high school sweetheart, Roger, who is the senior director of adult and family ministries for Assemblies of God. Roger & Kari live in Springfield, MO with their three super-kids Michael, Hannah, and Zoie.
Kari blogs at My Crazy Adoption and writes about everyday life–marriage, family, parenting, faith, adoption, orphan care, and all the other things that celebrate the craziness of life and loving big.