I'm happy to welcome this week's guest post from Erin for my Wednesday series 
Yes, Works For Me!
 Please welcome her and be encouraged by her yes to God and continue to link up what works for you.
The word "mess" is a familiar one to me. I've never been the best at keeping things well organized, but add three boys and all the Legos that come along with them, and I'm usually surrounded by messes. When I read the concept of saying "yes in my mess" in Kristen's book I thought, "I can do that. I've been doing that for years."
It turns out our messes aren't always just physical, though, and it is often the relational, spiritual, and emotional messes that prevent us from saying yes more often to God and His plans for us.
I'm writing this during a break in packing my oldest son for camp. He's eight and this is his first year going to church camp three hours away from home for four days. This may have been my hardest "yes" as a parent so far, and not just because I'm going to miss him or because he'll be so far away and I worry.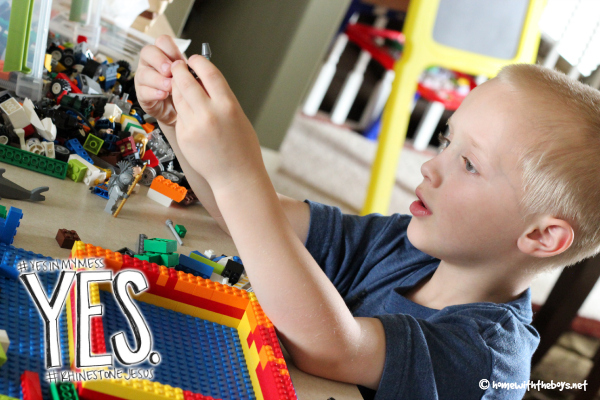 My relationship with my eight-year-old has been quite messy for the past year or so. I am sure it's not that much out of the ordinary. Many other moms of eight-year-old boys have reassured me of this. I asked his permission before telling this story because it is his story as well, but honestly, I don't know if he feels the mess between us as much as I do.
The relational tension between us is two-sided, but I'm owning up to my part today. I'm creating a lot of mess with my own expectations and a desire to hold on to control of my family. Yuck. I hate to admit that, but this is where my "yes" came in to play.
Several months ago, my firstborn came home from AWANA talking about church camp and how he was finally old enough to go. "Can I go?! PLEASE?!" I was happy to hear him excited, but my mind quickly swirled with thoughts of him being too young and not ready and the camp being too long and too far away. This seemed like something very much out of my control.
Besides the control thing, I couldn't help but think about where our relationship as mother and son was…and how I didn't want it to be this way just before he left to be on his own for the first time. I had to make the decision to send him to camp or not in the middle of that mess. This was just about the time I was reading Rhinestone Jesus. As I wrestled with this balance of feeling God leading me to let my boy go and the feeling that I wanted our relationship to be "right" before I released him, I read this…
"God didn't wait for me to get my life together before I said yes – He accepted my willingness in the middle of my mess."
That's just what I did. I said yes in the middle of my mess. I'm not writing this to tell you what happened on the other side. We've been working on my expectations and his respect for me, both making progress but with lots of room to grow. He leaves for camp tomorrow morning and I really have no idea what God will do through this. I only know He is working on me through this whole experience, asking me to let go so that He can shine. And I trust that He will.
"God wants us right in the middle of our mess because it's the perfect place for Him to shine through our imperfections."
Erin Mohring enjoys life in Nebraska with her husband of 11 years and their three boys, as well as reading, running, and movie nights with her guys. She writes at Home with the Boys and is the co-founder of The MOB Society, a site for moms of boys, by moms of boys.