Friday mornings around my house are hectic.
With one kid in the high school marching band with a football game at night, it means for a very long day. This past Friday was no different, except that my marcher overslept, my son had to be at junior high early and my youngest was still asleep. My husband and I tag teamed it and while I took my son to school in the dark, he went the opposite direction with our girls, one still in pajamas.
There was traffic and a bad hair day and drama in the car and a lot of oh-my-goodness-the-weekend-is-almost-here thoughts.
Our second grader is years behind her siblings and usually takes their schedule in stride. But not on Friday.
What started out as a small thing, quickly grew to a full blown meltdown. You know the kind. At one point, she was so angry, she started spouting off all the bad words she knew, words like dumb and stupid and shut up. And then she let out the big one she read on the wall at the taco bar we visited this summer. The one I hoped she had forgotten. I knew it was a mistake eating there when she read loudly off the wall "The best damn tacos around" as we were ordering. A good reader has its disadvantages.
We hushed her and told her that was a bad word. Our first mistake.
Because when you're riding in your pajamas, taking your sister to high school and you're not getting your way, those bad words are the first thing you think of. Oh, sin nature, you do start early.
She used the word completely wrong and it wasn't funny at all-the whole morning was a disaster, and when I looked down at the shirt I was wearing, I really wanted to laugh.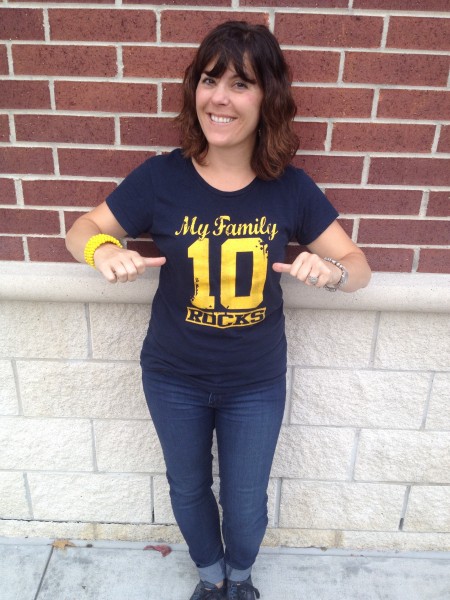 Sometimes I think people think our family has it all together. Childless young married couples have told us, "We want our family to be like yours one day." Oh, to be a fly on our wall.  Sure, we run a non-profit and we said yes to God and it looks good from the outside…like we are perfect parents with perfect kids. And it couldn't be further from the truth. We are a big fat disaster most days and that's why it's remarkable. Because God uses weak, messy people to change the world.
Two out of three of our kids told us we were mean parents that morning. I don't know what's wrong with the third one.
But after taking her consequence like a boss, my little girl hugged us hard and apologized. I chaperoned the marching band on Friday night and thought I saw pride in my high schooler's eyes. And most of all, I was reminded that my family rocks.
Even, when it doesn't. Especially then.
We are just [damn] normal.
And I have the t-shirt to prove it.