I'm happy to introduce you to this week's guest poster Sarah for my Wednesday series 
Yes, Works For Me!
 Please welcome her and be encouraged by her yes to God and continue to link up what works for you.
Five years ago I felt the strong call of the Lord to change the way I was living my life. I had pursued and achieved the American Dream, I had been following Jesus for three decades, but suddenly I was left with a nagging feeling that something was missing.
I started to see that Jesus called us to sacrifice on behalf of others in a way that was completely counter to the culture I was enmeshed in. My heart began to break for "the least" in a way I could not explain, and I felt God specifically drawing me toward orphan care.
With two sweet biological boys, we thought our family was complete, but God had other plans for us. I started to see adoption as a possible path for us, but when I mentioned this to my husband it went over like a lead balloon. So I resolved not to bug him about it again thinking perhaps I misheard God's call on my life. But I did begin to pray.
The feeling that our family was meant to do more than just support others in adoption would not leave me. We had plenty of space in our house, our car, our lives and our hearts. Our abundance needed to be shared through more than just giving money to others doing the hard work.
For two long years I prayed and waited and did not ask my husband again. I recruited some friends to pray as well, that my husband's heart would respond to the Lord's call without pressure from me. We got very involved with orphan care at our church and supported lots of friends in their adoptions. Finally after two years, my husband said "yes" to God too, and scared to death we stepped out in faith and started the process to adopt a little girl from Haiti.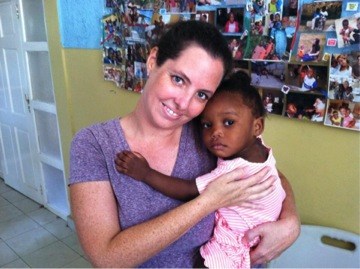 We were very nervous about upsetting the good thing we had going in our family by adding a child that desperately needed one. And let me tell you, the Enemy does not take kindly to the rescue and restoration of the fatherless and we came under attack. But the Lord used what became a very long period of waiting to grow us and draw us nearer to Him in a way I never could have imagined. He used that time to heal all kinds of brokenness in our lives, some we hadn't even been aware of.
Two and a half years of red tape and government stops and starts followed our "yes", but Jesus went before us all the way and in August we brought home our sweet daughter, Rose. We have already seen the Lord's restoring work in her life as her personality has blossomed since leaving her orphanage and joining our family. Saying "yes" to God was the best thing I've ever done.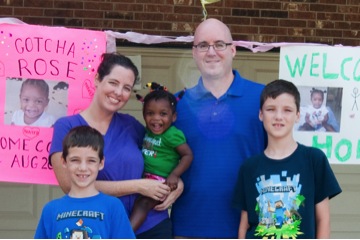 Sarah Hubbell is a Jesus-loving wife and mom of three awesome kiddos who is on a brief hiatus from being the Director of Engineering for a water treatment company. She loves to advocate for orphan care and adoption and is the author of Water Water Everywhere, a blog about faith, family and fitness.